79% of marketing leads never convert into sales. Learn 17 effective ways to drive higher quality traffic and generate more leads that will actually buy.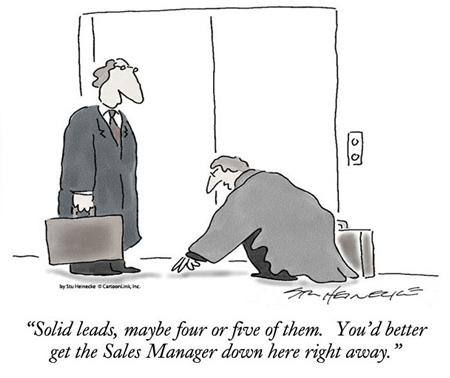 Ah, lead quality. Putting marketing and sales leaders in a room and bringing up the subject of lead quality can be like doing the same with a group of die-hard Trump and Hillary supporters and bringing up the election.
Marketing says sales isn't closing. Sales says the leads suck. Repeat.
Not to betray my digital marketing brethren here, but a lot of the time when sales says the leads suck, they're actually right.
In fact, past research has shown that on average 79% of marketing leads never convert into sales. (Source: MarketingSherpa)
To be fair, very few people wake up in the morning wanting to be marketed and sold to, so of course most leads marketing delivers to sales will not exactly always arrive with checkbooks open at first. Also in marketing's defense, sales reps can sometimes be a little trigger-happy with sharing negative feedback on leads based on very few data points.
Nonetheless, the fact still remains that for most marketers, the large majority of leads they spend all their time, budget and energy generating never really actually amount to any real revenue dollars for the company.
In my previous article on why the customer journey is the future of digital marketing, I discussed how due to the fact that the bulk of the customer journey now takes place online, digital marketing can dramatically impact the success or failure of a business more than ever before. Given this, it's fair to assume that generating leads that don't translate to revenue will be harder and harder to get away with in the future. In most modern organizations, the days of marketing throwing leads over the fence to sales are already history. Every marketer should care about lead quality and how to generate more leads that become customers, if not for the sake of their company, then because the career prospects for those who do not are quickly going extinct in this business.
In this post, I will share granular tips, approaches and tactics that have proven to be effective for myself, my team and other experts, to help you drive qualified traffic and generate more leads that are so high quality that even your sales reps may find them tough to complain about.
17 Ways to Generate More Leads that Will Actually Buy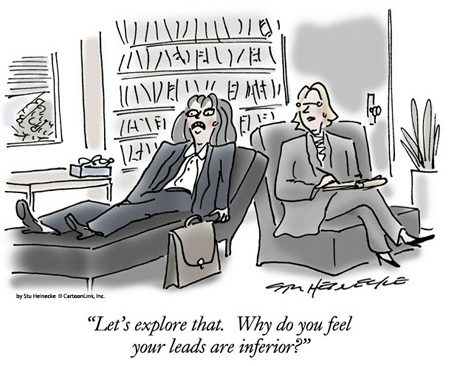 Section I: Content Marketing and SEO (#1-5)
---
1. Don't Cast the Net Too Wide with Your Content Marketing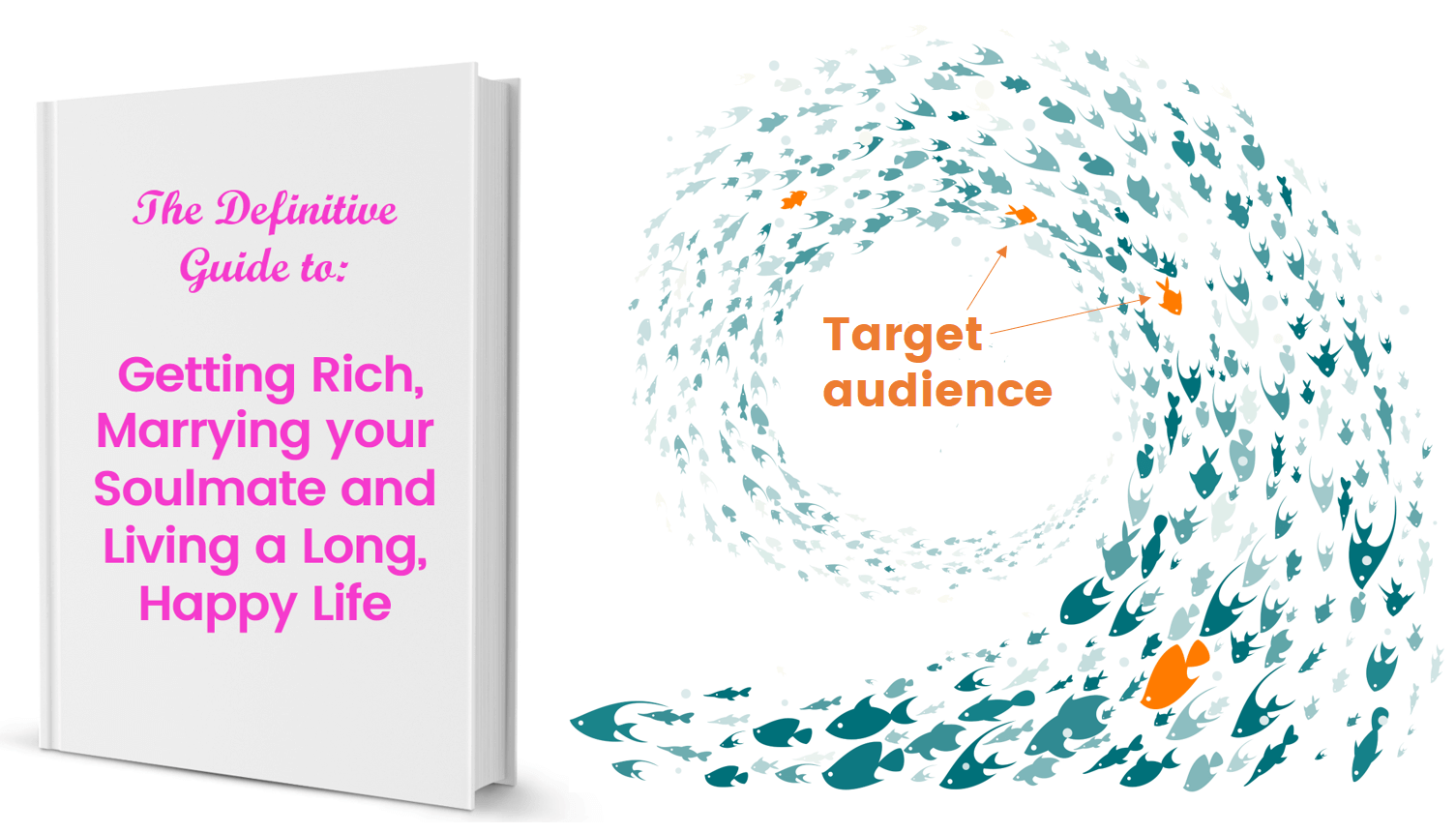 Your new eBook "The Definitive Guide to Getting Rich, Marrying your Soulmate and Living a Long, Happy Life" might get a ton of downloads – it might even break your lead gen records. But out of all the people you are attracting with this topic, how many are actually in your target market and will end up making a purchase?
Of course this is a wild, extreme exaggeration, but conceptually this can be a common mistake content marketers make. Yes, we want to cast a wide net at the top of the funnel, just not too wide – we need to make sure the people we are attracting with our content are the types of people that may end up purchasing our product sometime down the road.
In our customer journey stages model, content in the engagement stage is usually not directly tied to the solution, product or even problem yet, and is all about delivering value to our target audience. However, we can do this while also still making sure the topics we're talking about are attracting our target customer personas.
This engagement stage post (screen shot below) "Understanding SOAP and REST Basics and Differences" from our SmartBear blog is a great example of a content topic that casts a wide net but also attracts a qualified audience, and without even talking about the solution or product.
The post was originally published in 2013, and is still a qualified traffic-driving machine, having received 369,948 unique views in just the last twelve months, 344,886 of which coming through organic search.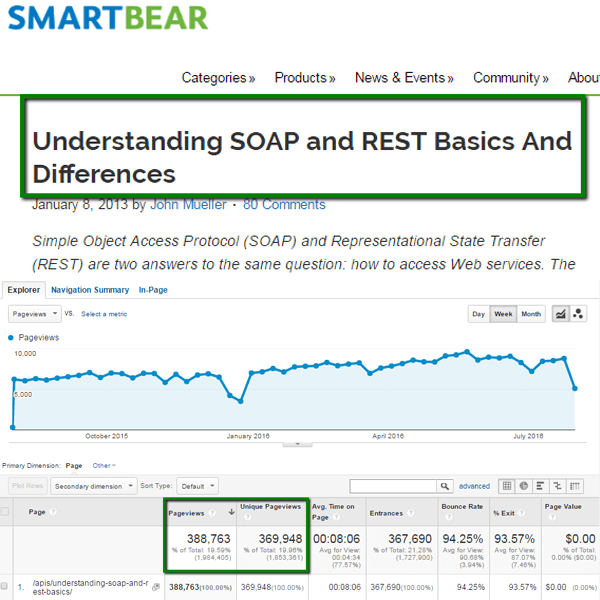 With the exception of some links and calls-to-action at the end, the article doesn't talk at all about API testing, quality or performance (our solution offerings), or about any of our tools. However, we know that many of the people who are interested in REST and SOAP APIs are likely the kinds of people that will end up buying our products down the line.
It's not just about driving traffic, but driving the right traffic.
---
2. Identify "Triple Threat" Content Topics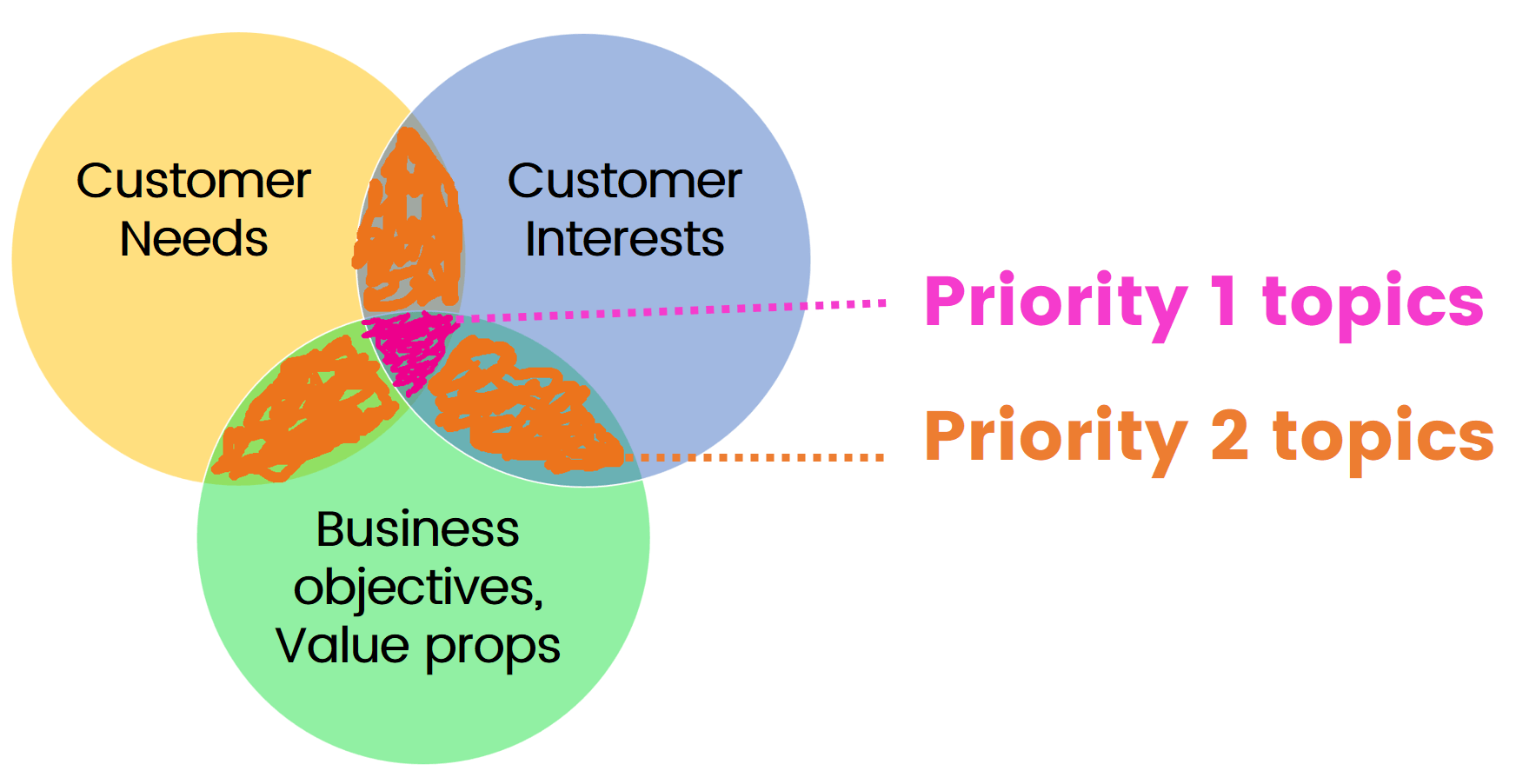 Find the sweet spot between customer needs, customer interests, and your marketing agenda.
If a content topic is all about your company's value props and isn't aligned with your customer's needs or interests, chances are you will miss the mark most of the time, especially at earlier stages of the journey. If you attract customers with a need that you can't solve, that is not a topic of wide interest to your audience, well, why would you do that?
And while choosing topics that are aligned with your target customers' interests can be an effective way to attract a qualified audience, even if you don't cast the net too wide, you still run a higher risk of attracting prospective customers that might not have an urgent need to purchase your product/service anytime in the near future. This is OK, because it's important for building brand awareness and expanding your reach to engage a larger pool of target personas to convert over time. However, whenever possible, if you can find topics that are not only of wide interest to your target audience but also address a key need that you can help them solve, you have yourself an ideal scenario.
Grand slam content topics are often those that find a common ground satisfying all three of the following:
Your customers' interests. What popular work-related topics or industry trends does your audience care about, follow, and want to learn more about?
Your customers' needs. What are the pain points, challenges, and top-of-mind priorities and concerns that keep your customers up at night?
Your company's value props and business objectives. How does your product/service deliver unique value to target customers? What are the key business objectives and goals you need to accomplish through your content marketing?
A high-level example – let's say I am a digital marketer that is interested in the customer journey, and have a need to increase conversions from organic traffic I am driving to my site.
A topic about the customer journey will catch my eye. A topic about increasing web conversions will catch my eye. A topic about the customer journey AND increasing web conversions will DEFINITELY catch my eye. If your value props fit nicely with these, everybody wins (especially you.)
If you can't thread the needle with all three, your next best bet is to choose topics that at least cover two-of-three bases.
---
3. Understand User Intent
As outlined by Jordan Kasteler in an article from Marketingland, there are four categories of user search intent:
Informational: answers a question or clarifies an uncertainty.
Navigational: drives the searcher to a pre-determined destination.
Commercial Investigation: aids researching while implies a future transaction.
Transactional: aids the searcher in making a purchase or completing a specific task.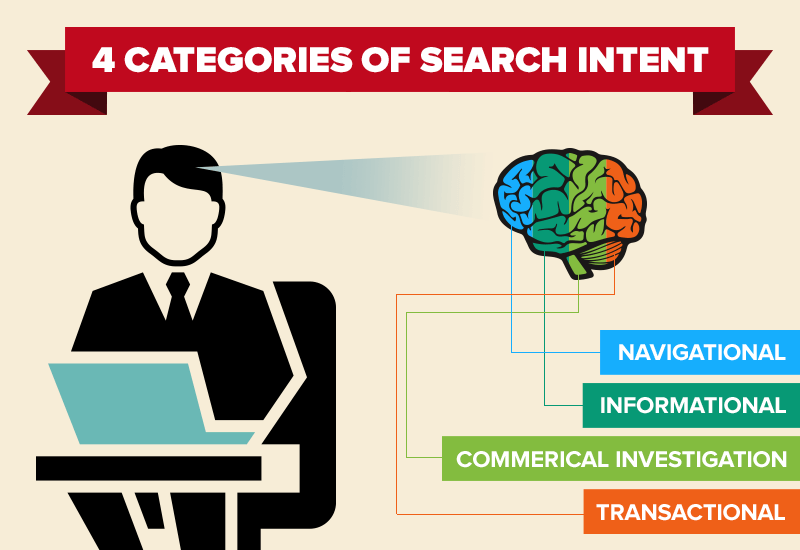 Look at each of the search terms your customers are finding you with. Are they looking for educational information? Info to evaluate a commercial product? Are they looking to buy?
Google will rank your content and pages based on what it deems best suited to match the intent of the user's search query.
In your keyword research, you want to identify those commercial and transactional keyword phrases and make sure you are optimizing content and pages to rank highly for them so that you can attract more customers actively researching for a solution.
For informational or "educational" terms, the customer might not have their wallet in their hand just yet, but if your content does its job, their research may turn commercial soon. But if you don't give them the educational content they are searching for, they are simply not going to find you.
#4 and #5 below provide some more tips for how to effectively generate more traffic with commercial and transactional user intent.
---
4. Identify and Capitalize on Buying Triggers
"Buying triggers" is the term I like to use for the common chains of events or conditions that often set customers off on the journey to find a solution.
A quick analogy. In screenwriting, an "inciting incident" refers to a turning point event that occurs in the first act of a film that sets the story in motion by introducing the problem, and ultimately results in the protagonist embarking on their journey in quest to solve the problem (ex: Darth Vader's attack on Princess Leia's Ship in Star Wars, when Vito Corleone is attacked at the fruit stand in the Godfather, or when Morpheus makes the decision that Mr. Anderson is the one they had been looking for in the Matrix.)
"Buying triggers" are the equivalent for the B2B customer journey, as "inciting incidents" are for three-act plot structure.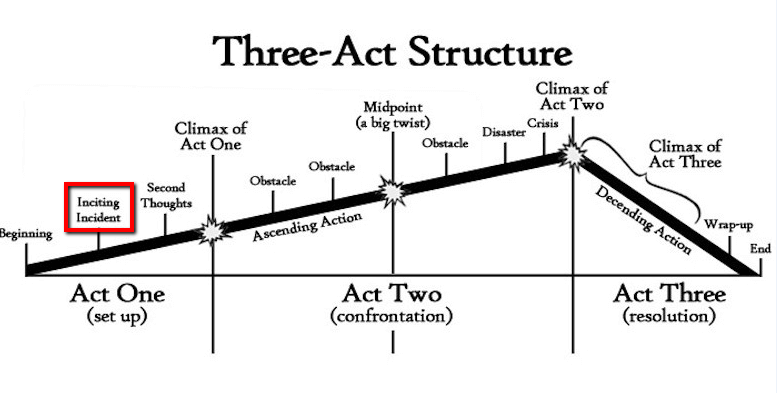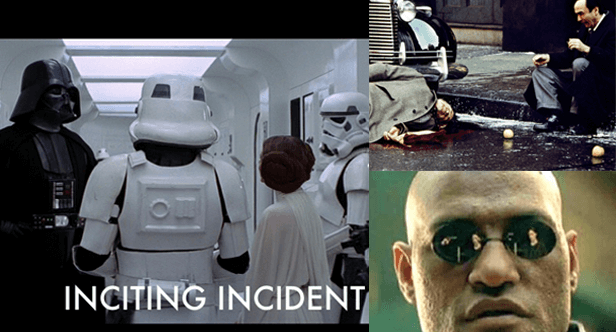 For us at SmartBear, a common buying trigger example might be when software bug, or quality issue just occurred and caused a company damage.
A Few More Potential Examples of Buying Triggers:
Maybe a new boss just joined the customer's company who is loyal to a solution they used previously.
Maybe they just missed an important business goal two quarters in a row and are under pressure to boost results immediately.
Maybe they just got audited and were not prepared.
Or maybe they just came up for renewal with a competitor and decided they just cannot take another year dealing with their awful customer service.
The possibilities for buying triggers are endless based upon your business and audience. Whatever they may be, customers that are reacting to these buying triggers are some of the most engaged leads in the sales process that you're going to find. If you can identify the key buying triggers that are sending your customers off in search of a solution, you can create content that will lead them to your door and help you generate more leads that are ready to buy.
But timing is key with buying triggers – when they happen, you need to be there.
---
5. Create Content that Screams Purchasing Intent
By understanding buying triggers and also key questions and obstacles customers frequently have further along in the buying process, you can then craft strategic content geared towards addressing those topics. Creating content that sends a strong signal of purchasing intent is a great way to attract and identify customers who are more actively engaged in the buying process and actually serious about making a purchase.
In a previous article on understanding the stages of the new digital marketing funnel, I gave an example of how for marketing automation companies, overcoming the perceived cost of switching solutions can be a major obstacle prospective customers frequently consider during the purchase stage of the customer journey.
Given this knowledge, HubSpot did a nice job putting together a success kit which currently ranks #1 on Google for the search phrase "switching marketing automation vendors."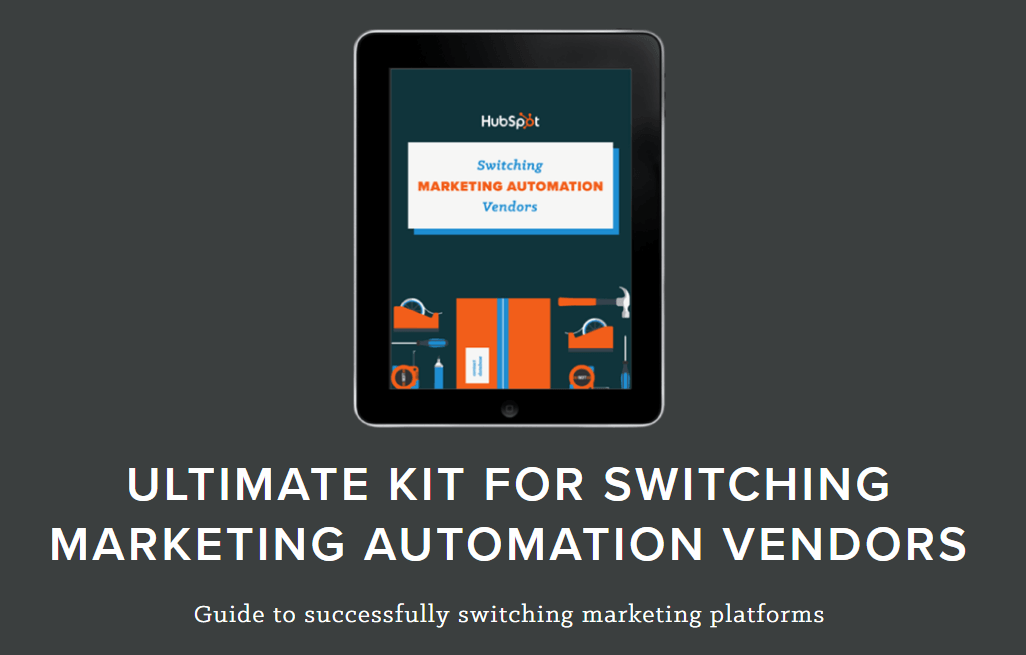 If I were a Hubspot sales rep, I would be all over a lead that downloads this asset like filth on dirt.
Whereas someone looking for information on marketing automation vendors or solutions in general might be earlier on in the research process, a customer specifically looking for information on switching vendors not only tells me that this person might be at a later stage and seriously considering making a purchase, but also that they are already spending budget on marketing automation, are likely unhappy with their current vendor, and could be coming up for renewal.
What more can I do to scream I'm probably ready for a sales conversation (short of filling out a form requesting to be contacted by sales)?
Check out the slideshare below from a recent webinar I presented as part of BrightTalk's B2B Content Marketing Summit to learn common costly mistakes that could be killing your content marketing results, and a deep dive on how to maximize content marketing ROI with actionable tips and steps to amplify the impact of every content initiative.
---
Section II: Data Utilization, Scoring, and Targeting (#6-8)
6. Utilize Data-Driven Targeting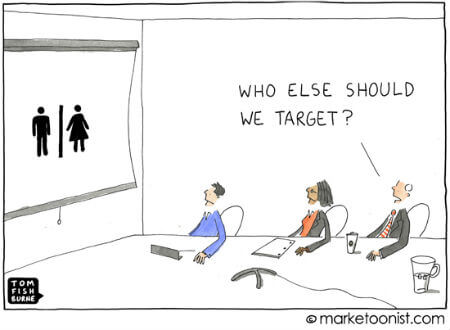 There are two primary types of data we are talking about here that companies use in their lead scoring algorithms and targeting:
Behavioral Data – implicit data that helps to gauge a customer's level of interest in a product/service based upon their online actions, activities and engagement
Demographic or Firmographic Data – Data that helps assess a customer's fit for a product/service based upon key characteristics of the buyer or organization (this tends to be explicit data, information about users usually collected via a form or survey)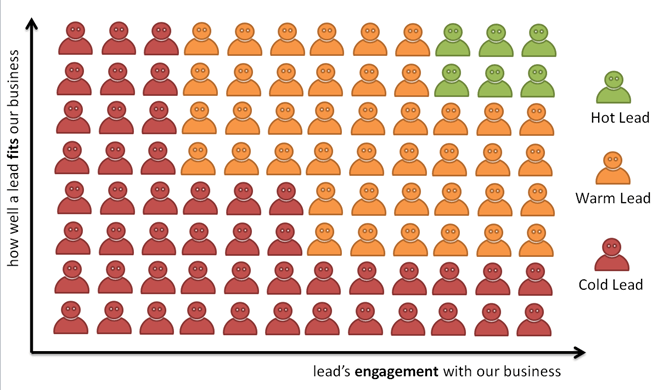 Targeting with Behavioral Data
Not to knock demographic, firmogaphic data, but in my opinion I think marketers can sometimes place too much value on that side of the data fence, and underestimate the power of behavioral data. If I had to choose one or the other, I would choose behavioral every time. If you disagree, ask Amazon, Netflix or Pandora their thoughts on the subject.
There are many ways you can leverage behavioral data to target higher quality leads based upon the interest they've demonstrated in their online actions. Behavioral data can give you an indication of who is more engaged in the purchasing process, and also identify leads who are showing more interest in specific topics you know can be a signal of having a higher likelihood of converting. Re-marketing, targeting by search history, automated nurture paths dictated by lead score and topics of interest, dynamic content and web personalization – all powerful tools to leverage with behavioral targeting.
Quick Tip: Use consistent naming conventions in your URLs to more easily behaviorally target audiences by interest based on web activity using Google Adwords and/or your marketing automation system.
Idea to Try: One behavioral targeting idea for paid advertising we have recently had some successful experiments with is working with product review sites to target leads who have looked at comparison reviews of our products vs competitors.
Targeting with Demographic, Firmographic and Explicit Data
Of course, demographic and firmographic data can be extremely valuable as well for similar targeting purposes. Job title and industry of course are some of the most classic examples. Explicit data can be particularly interesting when you create custom fields to collect data points on your forms, or also by leveraging others' explicit data.
For example, in addition to a full buffet of more common data points such as location, age, gender, etc to choose from, LinkedIn paid ads also allows you to target by things like specific skills and group memberships, which we have have found very effective.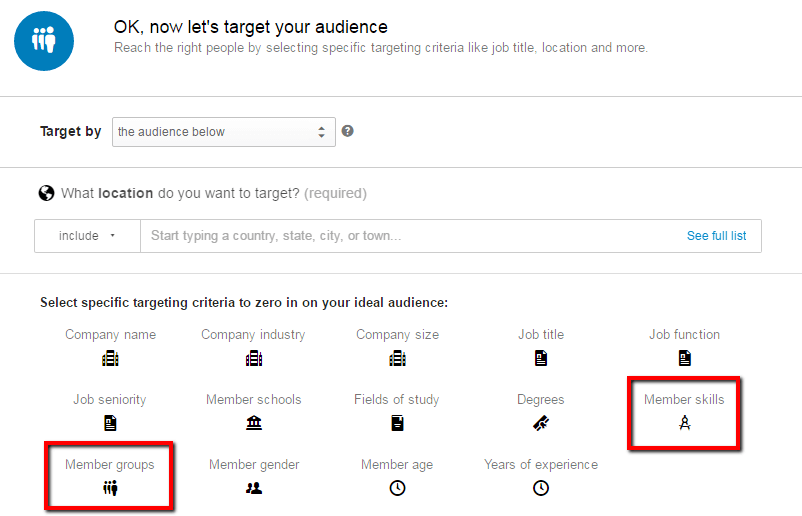 My colleague, PJ "PPCJ" Stevens, used data-driven targeting on LinkedIn to reach a very specified segment of technology users with this eBook promotion below, which was the #1 top performing sponsored content update on LinkedIn in all North American Tech earlier this year.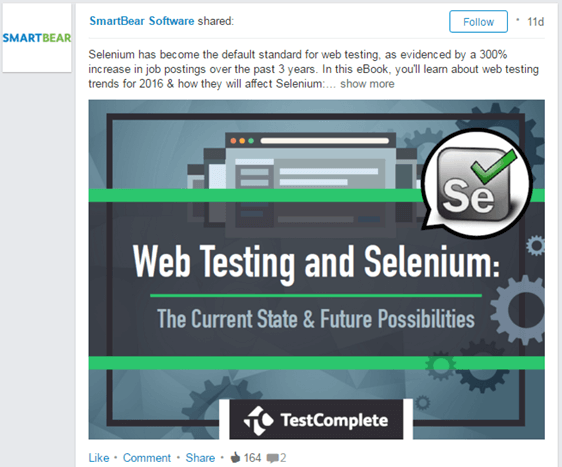 At the end of the day, the power of both behavioral and demographic/firmographic data are most potent when used together, which you should aim to do as much as you can. Find as many ways to utilize whatever data that is available to help you cut through the clutter and engage the right customers.
---
7. Leverage Predictive Analytics
Speaking of leveraging data to reach a more qualified target audience, implementing a predictive analytics solution is one way that more and more marketers are turning to everyday to step their game up a notch in this area.
(Source: Everstring)
We were somewhat early adopters of predictive analytics, having originally started experimenting with it in early 2013. I had the exciting opportunity to manage the program, which allowed me to experience firsthand the powerful capabilities of this technology, which was already impressive then let alone what it can do now. Working with leading predictive analytics and customer intelligence platform, Mintigo, we were able to create "Customer DNA" models based on prevalent characteristics among our existing customer base that we used to score each inbound lead we generated in real-time for its likelihood to close.
The reality is that traditional lead scoring models aren't very accurate predictors of sales readiness because it is often built by gut-feel, general rules of thumb, and/or a very limited data set. Predictive, on the other hand, uses data science to identify both the data within your systems as well as external data signals gathered from all over the web to help you identify the common characteristics and behaviors of your customers….aka your ideal customer profile. By comparing your prospects with this profile, you'll have a more comprehensive picture of the leads that have the highest propensity to buy.
–Tony Yang, VP Marketing, Mintigo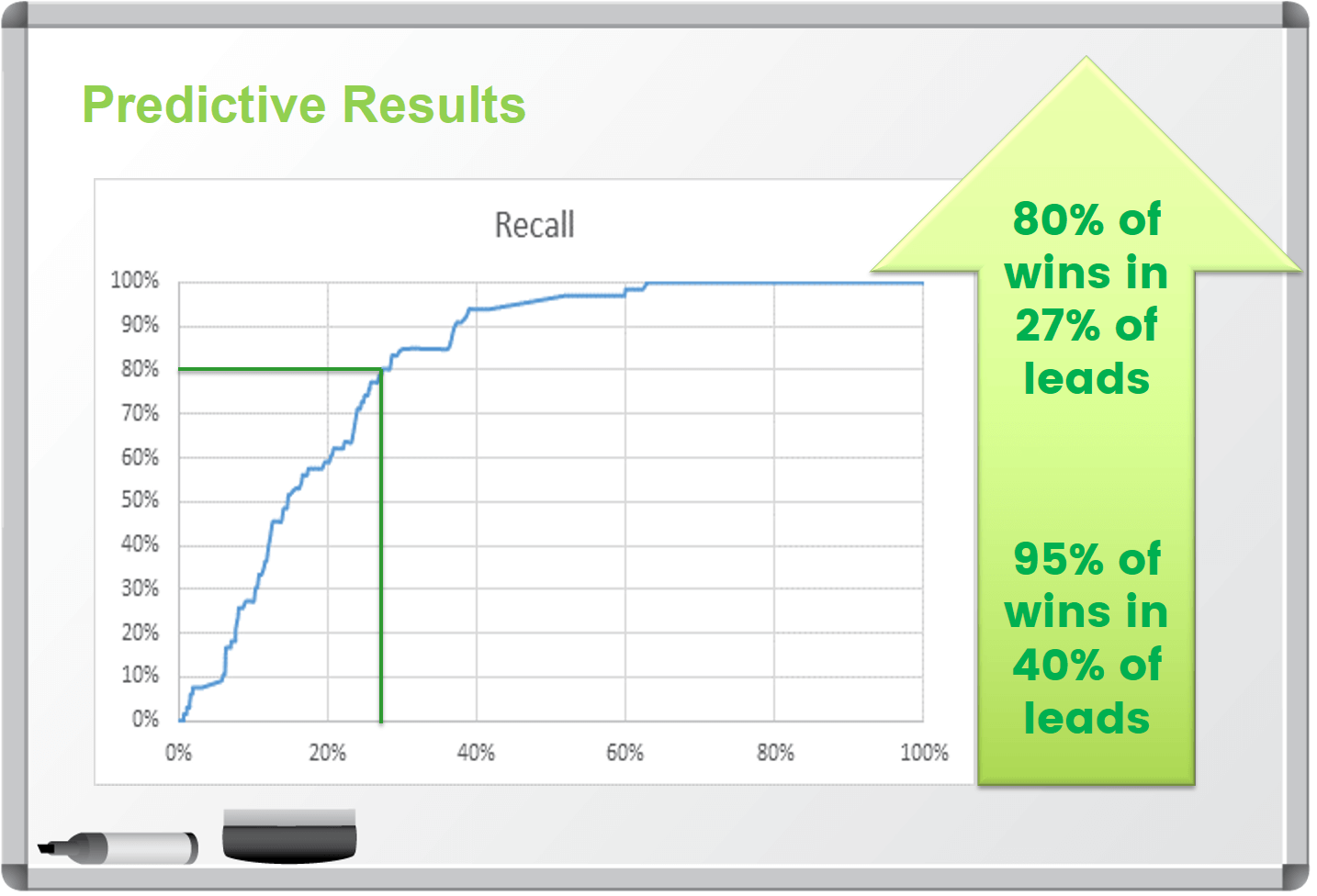 Concentrating Marketing Resources, Lead Quality Feedback and Custom Buyer Data
In addition to focusing more resources and attention on those with the highest predictive scores, as a demand generation marketer, one of the other initial values I recognized was being able to get a quick and immediate gauge of lead quality by source and campaign as leads were flowing in, enabling us to keep a tighter leash on understanding where the quality was coming from.
We were also able to work with Mintigo to capture and append critical (difficult to attain) data that were leading indications of quality prospects for specific products. For example, for one of our products, some of our sweet spot customer characteristics include; developer teams working in distributed locations, regulated industries, large enterprise companies, and using agile methodology. With help from predictive analytics and Mintigo, we were able to identify both new leads and existing contacts in our database with each of these characteristics, and in some cases even leads that possessed all of them. In terms of fit for that product, you can't get a much higher quality lead than that.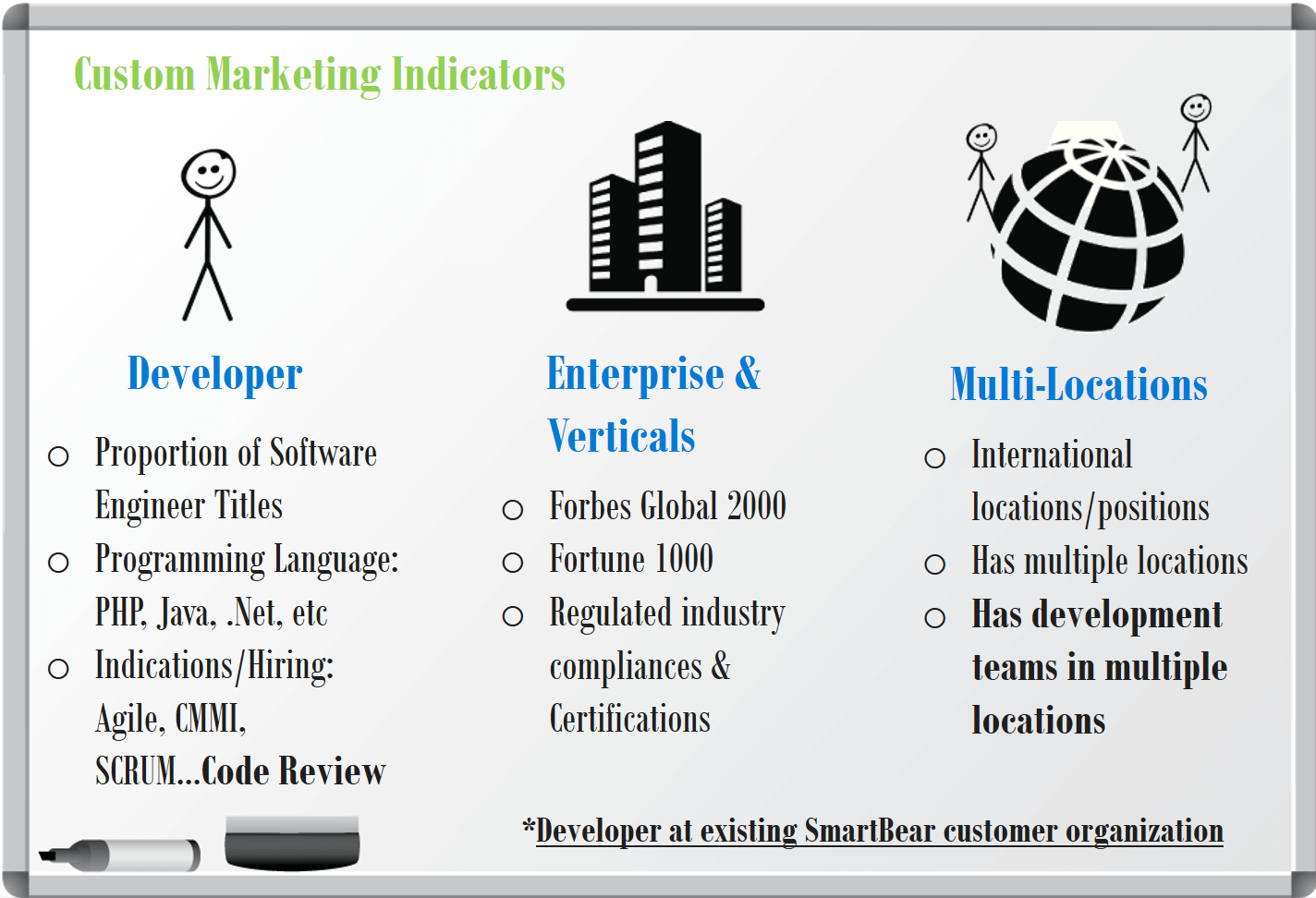 For more: Check out this slideshare or watch the recording below from a webinar I presented with Marketo and Mintigo's Tony Yang about predictive analytics lead scoring.
---
8. Account-Based Marketing
Account-Based Marketing is another phrase you can't go five minutes without hearing about in the digital marketing community these days, often in the same breath as predictive analytics. Not only is this because ABM is experiencing a comparably rapid rate of adoption among marketers as predictive, but also because the two share many parallels and compliment each other well.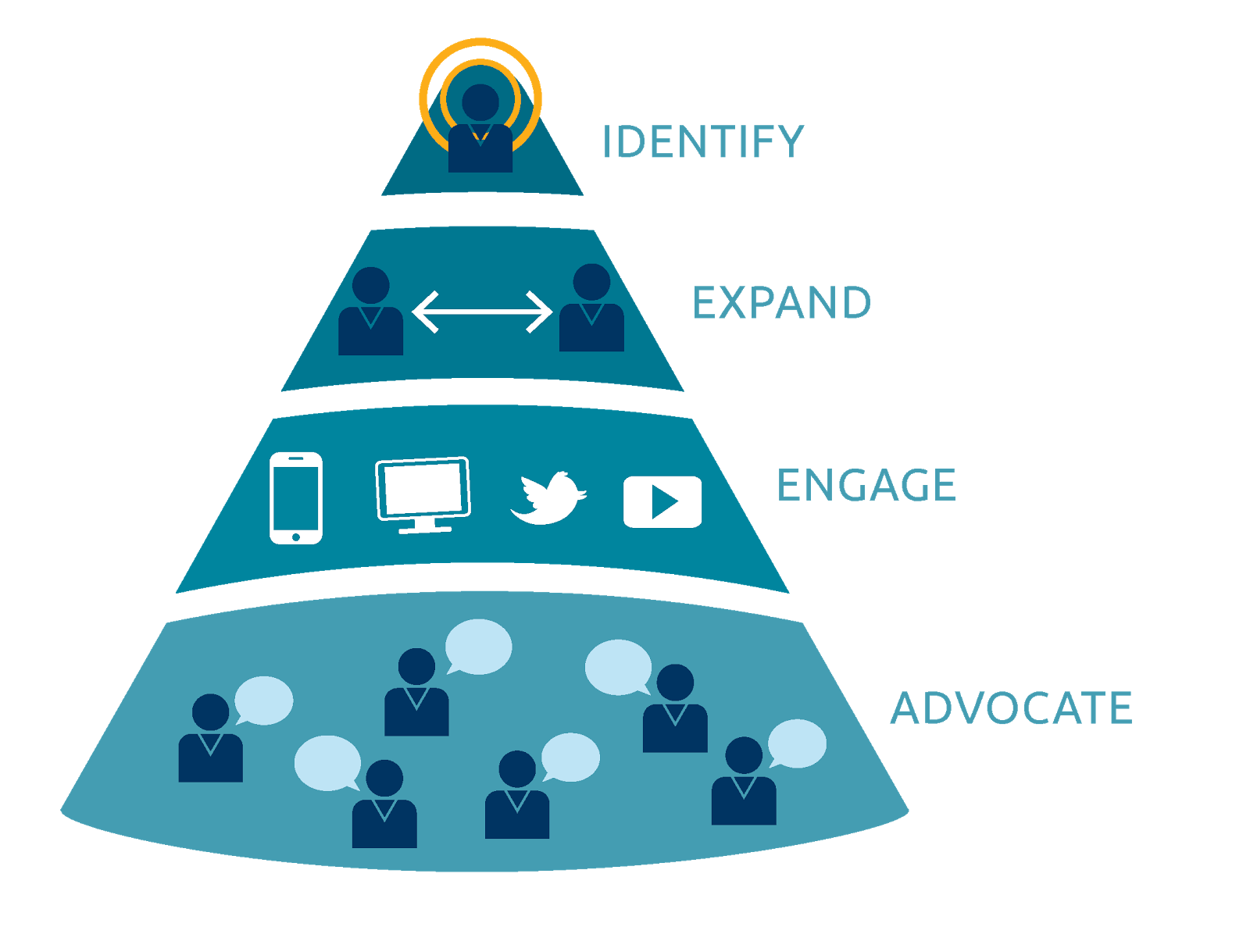 The very foundation of ABM is about identifying highly targeted accounts with the best potential fit for your organization, and aligning marketing and sales organizations to deploy a laser-like, personalized approach to establishing a relationship with customers and winning their business.
Account Based Marketing is a strategic approach that coordinates personalized marketing and sales efforts to open doors and deepen engagement at specific accounts.
– Jon Miller, CEO of Engagio
Essentially, the whole premise of account based marketing is to identify higher quality leads that will close.
Your best prospects tend to look like your best customers. Account Based Marketing increases quality and oftentimes quantity of pipeline by focusing marketing efforts on accounts that have the strongest propensity to close.
–Charlie Liang, Director of Marketing, Engagio
Check out this DemandBase article for some addition tips on how to generate higher quality leads with ABM.
---
Section III: Lead Qualification, Quality and Nurturing (#9-14)
9. Understand your "Far-From-Ideal" Customers as Well as Your Ideal Customers
While it is absolutely crucial to understand the profile of your ideal customers in order to improve your traffic and lead quality, it can be equally important to understand the characteristics of customers that might fit the general target profile but are much less likely to buy. This will change depending on your business.
Do you need specific technology integrations in order to be a customer?
Can certain companies in regulated industries not use your solution due to compliance issues?
Is the product out of price range for some smaller companies?
In a previous life, I worked for a start-up SaaS tech company with a solution we marketed to financial advisors. However, not all financial advisor leads were created in equal. In order to become a customer, your advisory firm could not be affiliated with a broker-dealer, you needed to be using one of the Portfolio Management Systems we partnered with, and typically you needed to have a certain minimum amount of Assets Under Management for the investment to make sense. Any lead that I generated that did not fit this criteria was marketing budget thrown out the window.
The more you can understand the segments within your broader target audience that are LEAST likely to buy, the more you can do your best to avoid them with your content and messaging, and staying away from marketing channels where your "far-from-ideal" customers might frequent more than your ideal ones.
---
10. Understand How Customers Solve (or cope with) the Problem Before Coming to You
Are they using a competitor? A high-end competitor? Low-end competitor? Free tool? Homegrown solution? Doing it manually? Not doing anything? Didn't know a solution even existed? Not aware they even have a problem?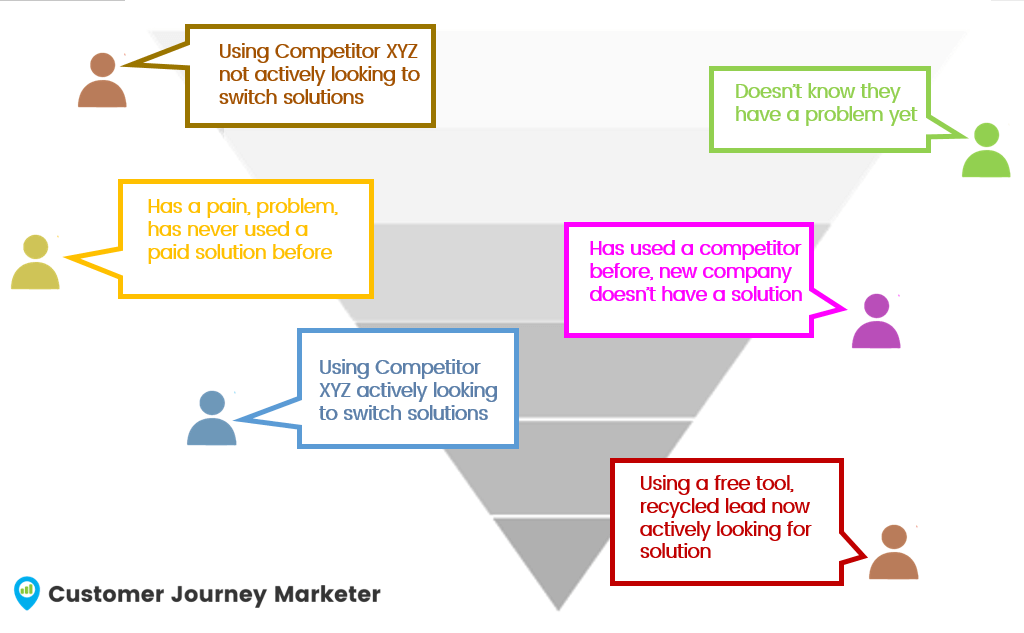 These factors not only change the different questions and barriers that will need to be addressed during their customer journey, but can sometimes mean a drastic difference in the chances of them becoming a customer.
If they are using a much higher-end competitor, from your data you might know that chances are they are looking for a much more fully-featured solution than yours offers. On the other hand, if the low-end competitor they were using is too far away on the cost spectrum, or they are not the type of company that would typically need a more robust solution, your data may indicate that these are much less likely to convert as well.
I'm not saying that in either case you won't necessarily want to bother trying to attract and convert these examples, just that depending on your business and the situation, some of these can sometimes really make or break the likelihood of whether a lead will end up closing, and how difficult it might be to convert them.
On the flipside, you will also identify scenarios in which customers who are addressing a problem a certain way will have higher conversion rates than others.
Hubspot's Switching Marketing Automation Vendors Kit example from #5 above is a perfect example of putting this kind of knowledge to effective use.
Identify the different common ways your target customers approach the problem before coming to you, and then figure out how to attract generate more leads in your sweet spot that will be more likely to convert, and less of the long-shots with an extremely tall hill to climb.
---
11. Put Screens on Your Doors
We have a little inside joke with some of our SmartBear Galway friends who find the fact that we use screens on our windows and doors in America to be a ridiculous idea. As it turns out, Ireland does not share the same insect and mosquitoes struggles that we do here in the US. The fact that they don't use screens in Ireland is an equally mind-boggling thought to us.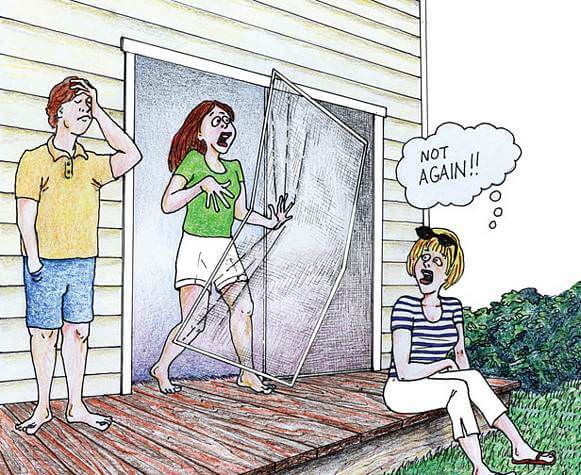 However, in the case of generating higher quality leads that will close, a "screen door" approach can often make a lot sense, even in Ireland.
What I mean with this analogy is that once you understand the common characteristics and signs of customers that are most and least likely to buy, you then might want to focus on finding ways to screen and filter which leads enter your funnel. Welcoming leads with a very small likelihood to purchase into your marketing system and sales process is a waste of marketing and sales time, budget and resources.
Use Qualification Form Fields
Qualification form fields is one example of applying "screen-door" tactics. Note that with taking this type of approach you may be squeezing the pipe of your lead flow and possibly taking a hit on landing page conversion rates, but in doing so you are making a conscious decision to sacrifice quantity in favor of quality. If you so choose, you can also use this data in your lead scoring and routing rules to determine which customers get sent to sales.
In addition, this data can be utilized for helping sales identify and prioritize their best bets to focus on, and by studying where the highest quality leads are coming from, you can get some valuable clues on how to find more diamonds, and less rough.
3 Example Approaches for Using Qualification Forms and Fields:
Lengthen the form by adding qualification questions. Adding a handful of strategic fields to your web form is a common approach that can be effective for qualification. First of all, just by increasing the number fields you are already adding a layer of qualification, but this is also an opportunity to create custom fields that collect key explicit data to help you gauge their potential fit for your product/service. As an example, after completing the basic contact information to download the switching marketing automating vendors asset from the aforementioned Hubspot asset, I am then presented with six total additional fields designed to qualify me (doubling the length of the form), four of which are required.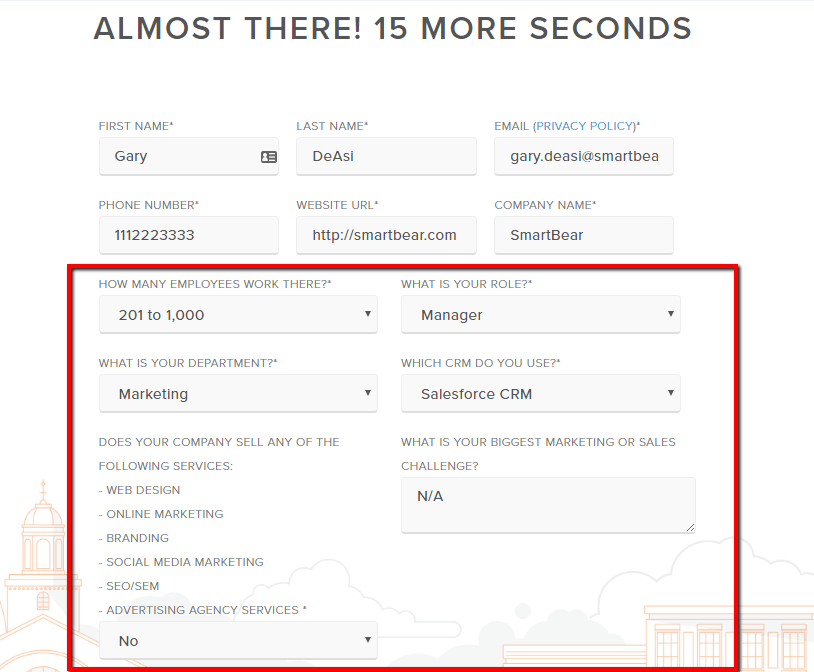 Combing this data with the behavioral data, Hubspot can get a better sense of both my fit and interest. If you recall my financial advisor example from my previous role in the "far-from-ideal" customers section above, regardless of how much purchasing behavior a lead exhibits, it could be meaninglessness if they don't match up with key criteria.
Progressive Profiling. Progressive profiling is another option that enables you to collect similar explicit data for lead quality and qualification purposes, but without taking as much of hit on your landing page conversion rates. Instead of asking all the qualification questions up front on the form, each time a prospective customer returns you serve up new questions and continue collecting more and more data over time.
Qualification form pop-up surveys. Another alternate approach I've used successfully in the past is not adding any qualification questions to the form at all, and instead having a qualification survey pop up in a lightbox on the thank you page the customer reaches after the form submission. This allows more leads into your system, but you are still able to qualify many of them for sales prioritization and collect lots of useful data.The image below is an example of the post-form pop-up approach we've used at SmartBear.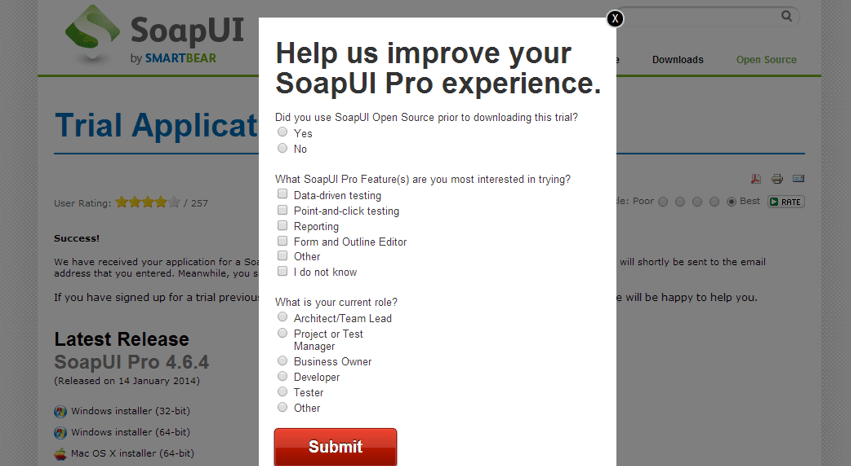 Notice Question #1 asks if they came to the pro trial after having already downloaded the open source version. In other words, is there something they need that the pro version offers that is not available in the free version?
Question #2 then asks the customer to specify what those specific feature(s) are. Question #3 gets at their role in the purchasing process.
We combined data collected through this pop-up survey with lead scoring data, purchasing behaviors, and data quality to help prioritize leads for sales reps and make sure only the best of the best leads were making through to their call-down queues.
---
12. Be Upfront and Transparent: Don't Mislead or Over-Promise
Our natural talents for spinning facts in a favorable light can sometimes backfire on us marketers as there is a fine line between spin and being misleading.
This is another "screen door" type variable that has more to do with filtering in/out customers through marketing messaging, and how/what you choose to communicate to prospective customers.
Don't message customers saying that your product integrates with Salesforce, NetSuite and Marketo if it's really just a loose integration with Salesforce and one of the others is just on the roadmap. If you don't support a certain technology, be upfront about it – don't waste everyone's time welcoming grenade prospects into your funnel that are never going close.
After you weed out unqualified folks from the gate, at least you know those who are not deterred and still interested in continuing the conversation are actually serious potential buyers, and you even might attract others who actually seek out for those same reasons that scared off the others.
---
13. Keep a Close Eye on Lead Sources to Monitor Quality
Conversion rates usually vary greatly between different marketing channels and sources. Paid advertising can often be a regular suspect when lead quality is called into question. You miss a negative keyword here, and next thing you know an 85-year-old woman googles "Cat Pregnancy Test" and ends up on a phone call with our inside sales rep talking about software testing tools (No joke, that one really happed, just ask Kendal Peiguss.)
Sometimes with display advertising you can similarly catch a bad placement or two that starts bringing in the grandmothers and middle school students. It's not always paid that's the culprit, but it's definitely a good place to start and keep a short leash on.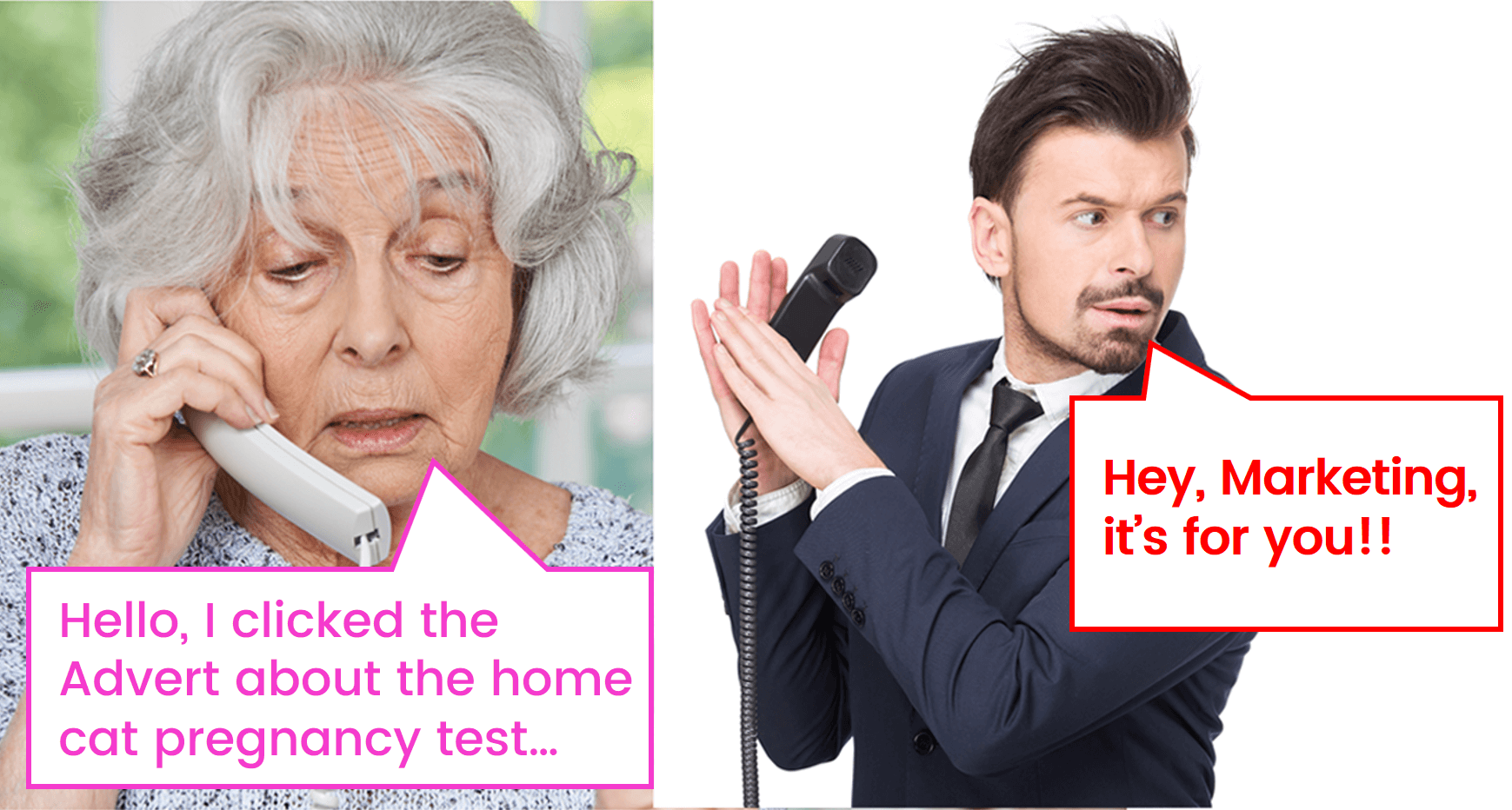 Always keep an eye on your lead sources to monitor lead quality. Using a lead disposition process with sales is also a key way to stay on top of this and get regular feedback on quality informed by data, as opposed to a claim from a sales person that "the leads are all terrible" which could be based on two data points for all you know as a marketer.
---
14. Amplify Urgency and Sales Readiness with Lead Nurturing
A lot of the leads sales might be complaining about being low quality might actually not low quality, but rather just not ripe for a sales conversation yet.
If I just converted on content at the education stage, I often have just recently discovered that I have a problem, and am just getting started learning about what solutions are available in the research stage. There's a good chance I don't even remember the name of the product or brand yet let alone developed any brand trust.
I may very well be making a purchasing decision soon, but not yet.
(Source: Gleanster Research)
Also, customers may often enter a lead nurturing program with doubts on whether or not they even really need a solution at all. An effective lead nurturing program will help many of these customers come to the realization "oh my Gosh how have I ever lived without this?!"
Using lead scoring in sync with lead nurturing is also a must, so that customers are sent to sales as soon as they ready, and to enable marketers to serve up dynamic content in nurture streams based upon their stage in the customer journey.
(Forrester)
How to Test and Optimize Your Lead Nurturing Strategy [Marketo Webinar]
For more lead nurturing tips and to learn about how we have successfully developed and evolved our lead nurturing strategy at SmartBear, check out
the slideshare
and
webinar replay
below featuring
Heidi Bullock
, VP of Marketing at Marketo, myself, and my former colleagues and fellow Marketo Champions,
Val Armstrong
and
Rick Decosta
.
---
Section IV: Customer Experience and Life-cycle (#15-17)
15. Regularly Check the Customer Journey for Hidden Leaks and Blockages
A couple years ago I was working with one of our products at SmartBear that had started to have a conversion problem from free trial to opportunity. We had just finished a big project simplifying the log-in and trail activation process dramatically to get users into the product faster (we actually reduced the number of steps from 7 to 2), which we thought would definitely help with trial to opportunity conversion. To my surprise, after an initial bump in the right direction out of the gate, the numbers actually started going down.
Digging into the numbers, I realized that of two primary use cases for the product, one was actually in fact up in terms of opp conversion, and the overall average was being brought down by the other use case which was hovering way down at an unprecedented 1% conversion rate from trial to opportunity for organic leads.
How could this be?
Taking a closer look under the hood, I started a trial of the product myself and realized that with the updates we had made there were no instructions for customers on how to actually get up and running with their trial for the second use case.
Sales had been complaining about lead quality, when in reality, a lot of leads may have become opportunities had we just provided them with what they needed to use the product during their trial.
Moral of the story, if you want to generate more qualified leads that will buy, you need to make sure their user experience is exceptional at every stage of their journey, even if that experience occurs in an area that is not traditionally under "marketing jurisdiction," and especially for key milestones in the purchasing process such as a successful free trial of the product.
---
16. Focus More on Customer Loyalty and Advocacy
When looking to generate more leads to grow a business, marketers will often exhaust every channel and avenue imaginable and yet still manage to overlook one of the most fruitful sources for finding new high quality leads: your existing customers.
If I'm your ideal customer, a lot of my friends and colleagues are also your ideal target customers. If I like you, and have had a positive experience, 83% of the time I will feel comfortable introducing you to one of them (key words being "if I like you" and "positive experience.")
[Source: Texas Tech University]
[Source: Neilsen]
But a lot of the time customers are not going to be proactive about giving referrals on their own, so you'll need to find ways to ask and to encourage them to. By increasing your focus on delivering value and building relationships with existing customers, more customers will be inclined to say yes when you ask, and sometimes more proactive about referring you to friends even when you're not asking.

On top of direct referrals, one mustn't forget or underestimate the power word-of-mouth in general.
You can measure the number of direct referrals you get, and the number of times your brand is mentioned online and on social media networks, but what won't show up in your marketing metrics is how many of your customers are potentially out there talking to colleagues, peers and friends about your brand every single day, and asking each other opinions on different products and solutions.
[Source: B to B Magazine]
The more customers love your brand and solution, the more they will talk, and the better things they will say to their ideal target customer friends actively looking for a solution.
---
17. Goal your Marketing Organization on Revenue
At SmartBear, our marketing team is goaled on revenue. We also have your typical marketing goals for things such as qualified leads for example, but our bonus structure is paid out entirely based upon whether or not we hit our revenue numbers.
This is huge, because it helps everyone on the marketing not lose sight of the end-goal, which can be a challenge since there are often so many goals and objectives that we must accomplish at different stages of the customer journey before we ever get to revenue.
When Marketing is goaled on revenue, just like sales, we also have a lot at stake if we fill the funnel with garbage, and all the more incentive to focus on lead quality, and generating leads with a high likelihood of actually becoming a customer.
---
What if none of this works?
If you do everything on this list and sales is still saying the leads suck, there is always still the chance that the product just really sucks. If that is the case, you're in big trouble. But on the bright side, at least marketing and sales have someone new to point fingers at, and something to agree on!
If you've tried everything on this list and know for sure that the product doesn't suck, tell sales the leads are great and that the real problem is that they suck at closing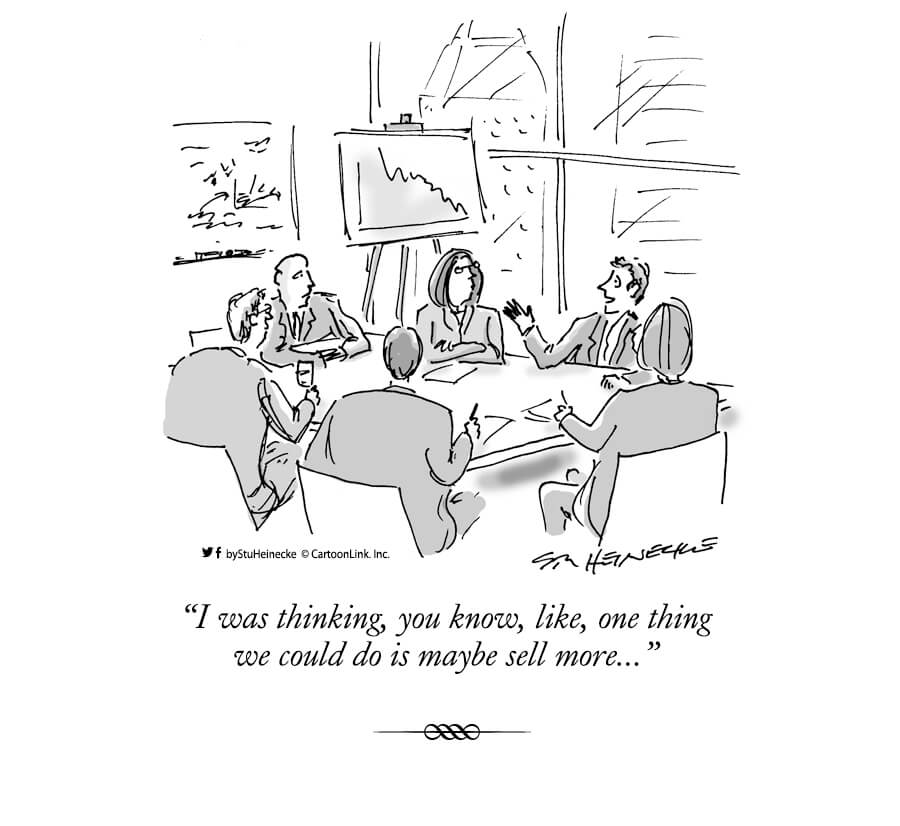 What are some tips or tactics that you have found effective for generating more leads that convert to sales? Be sure to leave a comment, I'd love to hear them!

Latest posts by Gary DeAsi
(see all)