Adapting to modern trends and shedding the weaknesses of the traditional marketing funnel, this next evolution digital marketing funnel model has an HD view of the customer journey, 10 stages leading to brand advocacy, and *spoiler alert* it's no longer shaped like a funnel.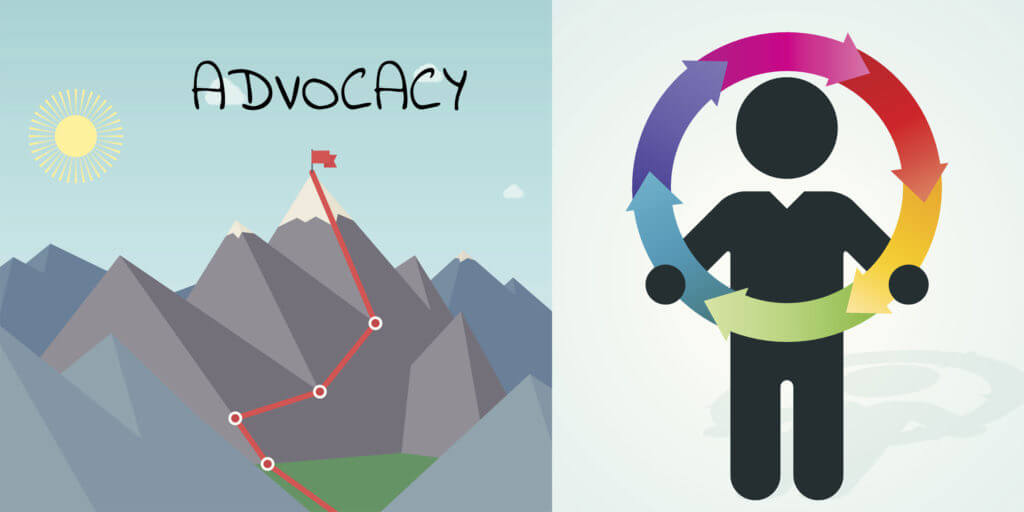 Digital Marketing is in simple terms any marketing that uses the internet. The aim of this blog post is to understand the aspects of digital marketing and the best methods for improving business plans, which starts with the "customer life cycle".
"Customer life cycle" is a term used to describe the progression of steps a customer goes through when finding, considering, purchasing, using, and maintaining loyalty to a product or service. For years, many organizations have often used various renditions of a purchasing funnel or "marketing funnel" to help define and understand the different stages buyers pass through over time during their journeys across the customer life cycle.
In my last post, I shared 6 common flaws with these traditional marketing funnels and buyer's journey models, the problems they can create in impacting the ways we think about the customer journey, and marketing's role in influencing it. Here is a quick recap of the 6 frequent pitfalls of the traditional marketing funnel:
The misconception that customer journeys are linear
Not acknowledging the fact that customers can enter the journey at any stage
Lacking focus beyond the point-of-purchase
Lacking granularity
Lacking a complete view of the entire journey
Not accounting for external influences
In sum, through the lens of a traditional marketing funnel, our view of the customer journey can be narrow, incomplete, out-of-focus, and well, a little distorted.
However, human beings were once apes. Kanye West was once not an a$$hole. For those of you who only speak Pokemon Go now, Charizards were once Charmanders. Evolution happens.

In this post, I will share one approach for an evolved model specifically designed to widen our scope, paint a more vivid and complete picture of the entire customer journey, and provide greater clarity of the different stages customers can encounter during the process of developing a relationship with a brand over time.
Viewing the Customer Journey in HD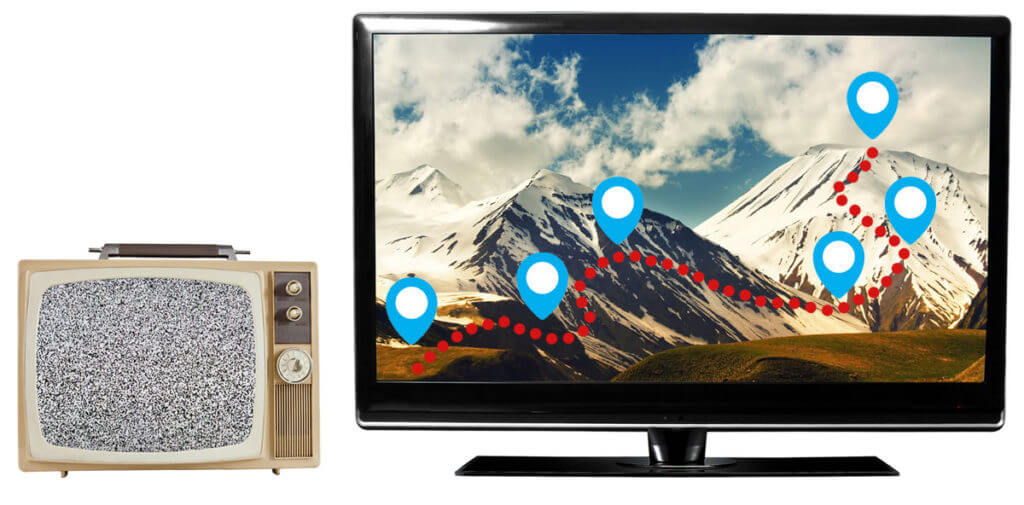 From Buyer's Journey Funnel, to Customer Journey Hourglass
Below is a custom model I created for SmartBear, which borrows some of the positive aspects from several existing models, while attempting to address some of their common flaws. We have been using this model for all products at SmartBear since January 2016, and so far it has been really effective for us.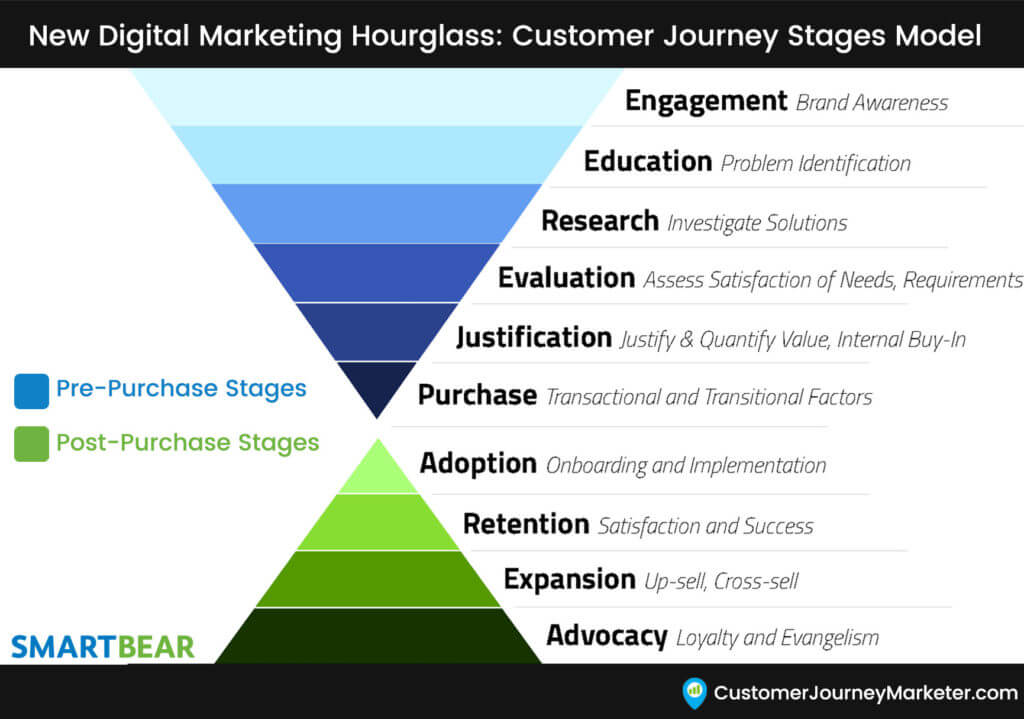 Perhaps one of the first things you will notice is the hourglass shape, which reflects the increased focus on growing customer relationships beyond the point-of-purchase. You will also see that the model is quite granular, with 6 pre-purchase stages (blue) and 4 post-purchase stages (green) – 10 stages in total from engagement to advocacy. These 10 stages are again intended to encompass a more complete spectrum of customer life cycle, which spans from the very first time a customer encounters a company/brand, all the way through brand advocacy, and every step in between.
While some of the shortcomings of the marketing funnel listed above and outlined in my previous article are addressed more directly in this hourglass, such as lacking focus beyond purchase, lacking granularity, and lacking a complete view of the journey, some of the others are taken into consideration more in the way we think about the customer journey. While these are not clear just from looking at the hourglass, below are some important assumptions to keep in mind for how customers enter and progress through different stages of this model, that differ from some of the ways we have thought about traditional funnels in the past:
Customers can enter at any pre-purchase stage
Customers often do not flow through these stages in a linear fashion in this exact order (or any exact order)
Customers do not necessarily go through every stage
Customers' journeys can vary significantly from customer-to-customer
When looking at the model, it's important to remember these rules.
Handpicked Related Content
Customer Journey Stages Overview and Definitions
Below I will walk through each stage at a high level, including the big picture questions we are looking to answer at each stage from the customer's point of view, and also add in some color commentary on some important items from a marketing and content perspective. It's worth noting that understanding the questions from the customers POV at each stage is the most crucial component for defining stages, and by ingraining this in the model we are helping to break the habit of viewing the customer journey from our own perspectives as Marketers, as opposed to how customers actually experience it.
Pre-Purchase Stages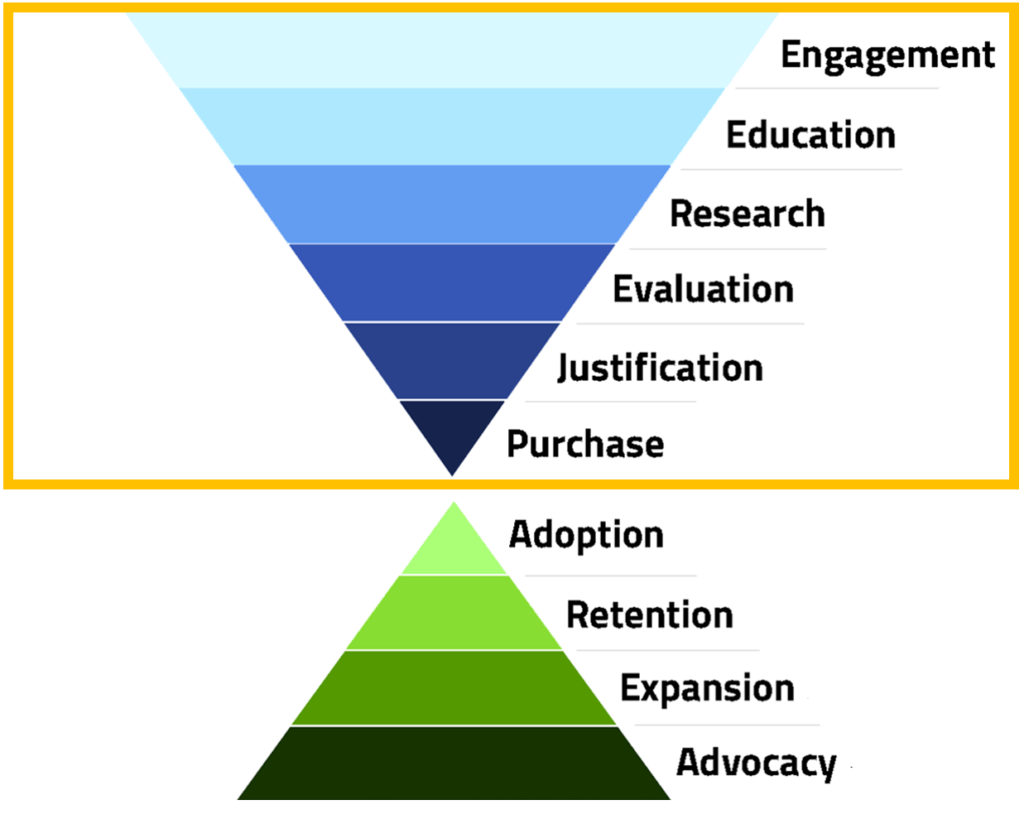 Engagement Stage: Brand Awareness
"Hello, brand, do I like you? Are you relevant to me? Do I want to hear more from you in the future?"

The engagement stage is about casting a wide net and delivering value to our audience (though it's important to note we want to make sure not to cast too wide of a net – we need to make sure we're attracting a qualified audience.) This is the only stage that is not directly connected to the problem, solution or product. The objective is for customers to find us, have a positive interaction with the brand, and for them to be open to engaging with us more in the future. That's it.
---
Education Stage: Problem Identification
"I have a problem?"

The objective is for customers to come to the realization that they have a problem for which they need to find a solution. From a content perspective, we're focusing on pain points, challenges, opportunities to improve results or sometimes the solution (not product) at a very high level. So, for example, say the solution was Marketing Automation, an education stage topic might focus on a pain point like lacking a scalable process for lead routing and management, or a high level intro to the solution, for example "What is Marketing Automation?" or "7 Signs that you Need to Implement Marketing Automation."
---
Research Stage: Investigate Solutions
"What solutions are available? What factors should I consider? What alternatives are there?"
The focus is still mostly on the solution more so than the product just yet. Key benefits, capabilities and differentiators are all things you'll want to communicate here, but there are tactful ways to go about this without making the product the central focus (will cover this in a later post). In addition, at the research stage it's also important to simultaneously reaffirm the value/need for the solution – "why do I need the solution even more than I realized?"

---
Evaluation Stage:

Assess Satisfaction of Needs
"Does this product solve my problem(s) and meet my specific needs & requirements?"
From this stage forward, the focus is on the product/service. Here we're talking value propositions, features/capabilities, technical specifications, use cases, how it works, etc. This might be the product section of your website, a free trial, or even a one-pager for a trade show. Having done some research, at this point customers often have developed somewhat of a internal checklist in their minds for key items they are looking for in a solution. At this stage, our job as marketers is to understand what the line items on that internal checklist might be for different customer personas, and make sure they are all easily crossed off.
---
Justification Stage: Justify & Quantify Value, Internal Buy-In
"Why do I really need this now? Why should I choose this over alternatives? How can I get my boss and team members on board?"
If a lot of your leads are not converting to opportunities, or opportunities are not progressing, you may have some work cut out for you at the justification stage. ROI, differentiators, social proof, flexing brand strength are all examples we want to cover here. Here's where you will get that classic sales objection "it's not a priority, or not a good time" – which we all know often just means there's no urgency because the customer hasn't been able to quantify the value. Internal buy-in is a critical component of this stage, and the journey in general. The prospective customer may even be sold at this point, but in many cases unless their boss and other internal influencers/stakeholders are on board as well, the deal is not going close.
---
Purchase Stage: Transaction and Transition Factors
"How do I get it? How difficult will it be for me to implement and change my current process?"

This stage is a big one that can often be underestimated. As we near the point of purchase, some new questions, concerns, objections and blockers can start to materialize the closer the possibly of a purchase gets to reality. Fear of the perceived overhead cost of change can especially be a steep barrier that can end up a deal breaker. It can much safer to accept the status quo than to put your neck on the line as the champion behind a major change with a risk of high cost or failure. Switching marketing automation or CRM systems for example would be a MAJOR transition for a lot of companies that would require an enormous amount of time, energy and resources. In order to get over that hump, customers need to feel confident in how you will be able to ensure a smooth transition.
---
Post-Purchase Stages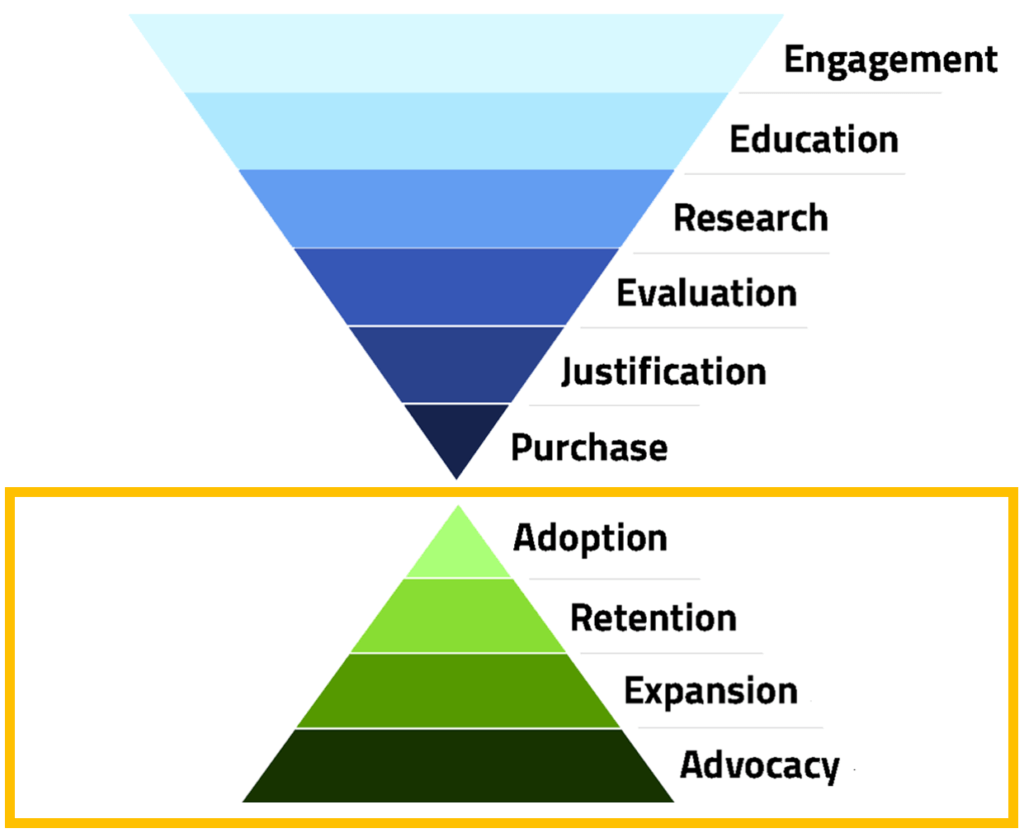 Adoption Stage: On-boarding and Implementation
"How do I successfully implement, get training, and start realizing value asap?"
When a new customer comes on board, it's crucial that they are able to get up and running as soon as possible and start realizing value –if you've promised a smooth transition in the purchase stage, now is the time to deliver on that promise. A rocky start may cause customers to second guess their decision, and it can even lead to churn if the adoption process is too painful or drags on for too long. Product Documentation, How-to guides and tutorials, training materials, success checklists, kick-off meetings – all common examples that can come into play at this stage. Customer success teams are crucial, as they work closely along with internal customer champions to ensure they are getting up to speed and the solution is remaining a priority.
---
Retention Stage: Satisfaction & Success
"Does SmartBear care about my success? Am I seeing value adds? Can I see long-term relationship? Why do I love being a SmartBear customer?"
Above all else, we need to make sure customers are being successful and achieving their goals with our product/service, communicating that success properly internally, and "feeling the love" at all times. Authenticity is also key – customers should see that you genuinely care and want to help them be successful. Educational content, best practices, tips/tricks, product updates, vision and roadmap information, certification programs, customer community programs all fall here. The more we are able to deliver value and show customer love here (and do so without a string a attached,) the more we are setting ourselves up for customers to return the love in expansion and advocacy stages. You reap later what you sow now.
---
Expansion Stage: Upsell, Cross-sell
"What additional value can I get from SmartBear? What other problems can you help me solve?"
If successful at each stage up to this point, you've earned a customer's trust and at this stage they are now ready for an up-selling or cross-selling conversation, whether that be add-ons, upgrades, additional users, other products/services etc. If you've been really successful at each stage up to this point, when your customers have a problem, they will come to you first to see if you have a solution before looking to competitors. Either way, from a marketing perspective our job is to make it easy for customers to discover these ways they can expand their business with you, and be prepared to answer their questions and clearly communicate the value they would get from doing so.
---
Advocacy Stage: Loyalty & Evangelism
"What can I do to help SmartBear?"
For us, Advocacy is the ultimate destination of the customer journey. A Brand Advocate can be defined as a customer who talks favorably about a brand or product, and passes on positive word-of-mouth messages about the brand on to other people. They will often be the most likely to give you more of their own business, and get you referral business with their contacts inside and outside of their organization. Their endorsements, testimonials, and willingness to spread the word about your brand can influence countless others. These are the first ones to volunteer to be on sales reference calls to jump on the phone and help close deals. When they transition to a new company, they might even bring you with them. Developing a relationship with a customer that results in advocacy can have the greatest potential ROI of any "lead" you generate.
But our work is still not done. Now that a customer has become a brand advocate, the objective becomes making sure they remain happy, keep them educated about the company's direction and vision, and are finding opportunities to leverage the customer's willingness to help. Special treatment of course is often a good idea here – advisory boards, exclusive advocate group memberships and communities for elite customers, gifts, special invitations, praise, and keeping a close personal relationship. To help us at this stage, we have leveraged Influitive, a leading customer advocacy platform, which I would recommend checking out (Behold, the power of customer advocacy!)
---
So I have a customer journey stages model, now what?
Keep an eye out for value. By adopting a model such as this one, you may start to see some value and positive things happening at your organization just by the shift in mindset, even before getting to all the juicy customer journey mapping and digital marketing alignment parts. For example, we were able to immediately identify some gaps in our post-purchase coverage for some stages which we were able to jump on and prioritize, and also got a better sense around some challenges we faced with some of our KPIs at different stages of the customer journey for various products.
Customer Journey Mapping and Digital Marketing Alignment. Since implementing the model, we have also aligned our entire marketing organization, strategy and systems with it, which along with customer journey mapping, can be the next step should you choose to take it. Teams, metrics and goals, content strategy and distribution, web strategy, paid advertising, lead nurturing, lead scoring and operations, product marketing, sales enablement, brand – all of these ares examples of digital marketing areas that can be mapped and aligned to the customer journey and stages model to drive results. If you're interested in learning more about how to go about doing this, be sure to subscribe to Customer Journey Marketer so you don't any upcoming posts!
Constant iteration. As I view almost everything we do in digital marketing (and software), this model is the latest iteration in an endless cycle of constant improvement. Feedback, comments, ideas, all welcomed 🙂
What stages models are you currently utilizing? What are some of the pros and cons that you've noticed?

Latest posts by Gary DeAsi
(see all)