70% of B2B content marketers aren't reaching their goals. Learn 45+ costly mistakes that cause content marketing to fail, and actionable tips on how to correct them.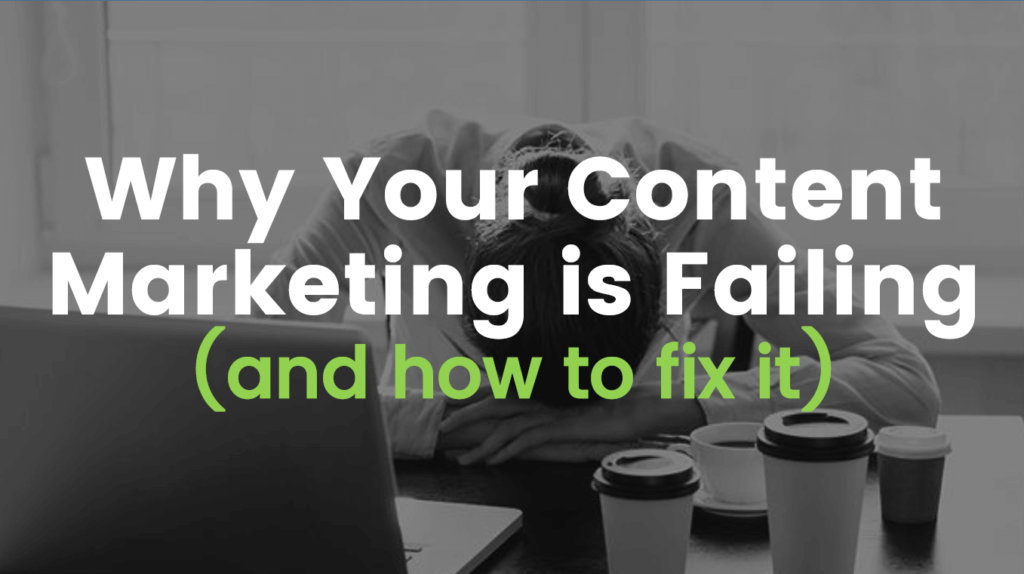 In my previous article, in addition to sharing some some tips for smarter content planning to improve content marketing ROI, I also referenced a couple B2B content marketing statistics that are cause for concern:
(Source: Content Marketing Institute)
(Source: Hubspot)
Despite the fact that so many marketing dollars and resources being invested in content marketing are not translating into positive business results, 51% of B2B companies still plan to increase spending on content marketing in the next 12 months.
So why are B2B companies investing so highly in content marketing, and why are so many failing to reach their goals?
Achieving Content Marketing Success is More Important (and More Difficult) than Ever
Not only is content often the primary avenue through which many customers discover brands online, now that up to 90% of the buyer's journey is self-directed, for a significantly long leg of the road, we rely on our content to serve as the primary chaperone to guide and help customers successfully progress through their journeys.
Whether or not a customer makes it to the point-of-purchase is largely dependent on our content's ability to:
Capture customers' attention and keep them engaged
Answer the right questions for customers
Help them overcome barriers and obstacles
Establish the foundation for a strong brand relationship
As if that weren't a tall enough order in itself, just having the right content isn't enough if it doesn't reach the right customers at the right times.
Is that difficult to do? You bet. But it's getting even harder.
In a digital world where customers have all the power and everyone is a publisher, increasingly high competition and standards are pressuring marketing teams into a race to produce higher quality content, in greater volumes, and at a faster rate than ever before, often with the same amount of resources.
Every 24 hours on the internet:
2 million blog posts are written (enough posts to fill Time Magazine for 770 years) Tweet this
864,000 hours of video is uploaded to YouTube (that's 98 years of non-stop cat videos) Tweet this
139,344 new websites go live Tweet this
(Sources: MBAOnline, HostGator)
With so much new content being pumped into the digital space every single day, it is infinitely more competitive than it was even just a few years ago. Standing out from the crowd, capturing customers' attention, and ranking highly on Google search results are all feats growing more challenging by the day.
But while all of the above certainly isn't making life easy for content marketers these days, you can't solely blame high competition and standards for your content failures. More often than not, when content marketing fails, it's because marketers haven't developed a deep enough understanding of what does and doesn't work for modern content marketing.
Why your Content Marketing is Failing and How to Fix It
Check out the slideshare below and watch the recording from a recent webinar I presented as part of BrightTalk's B2B Content Marketing Summit. You'll get:
An overview of common costly mistakes that can be killing your content marketing results
A deep dive on how to maximize content marketing ROI
Actionable tips and steps to amplify the impact of every content initiative
Examples and insights on how to align your content creation and distribution strategies with the customer journey
What insights can you share on why content marketing fails? What tips do you have on how to avoid them?

Latest posts by Gary DeAsi
(see all)