Is this thing on? Welcome to the first post of Customer Journey Marketer! I'd like to take the opportunity to share a little background on what this blog is about, why I created it, who it's for, the topics it will cover, and what readers can expect.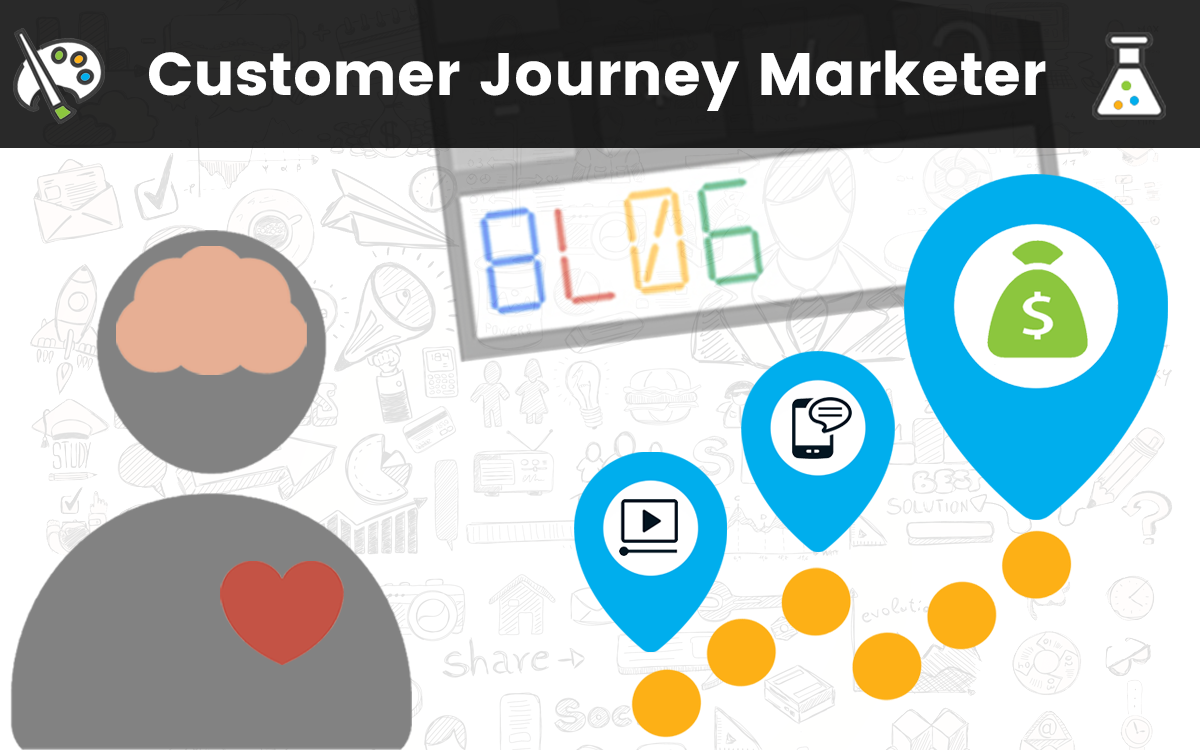 First, let's get some of the definitions squared away so we are all on the same page.
Customer (expanded definition): The traditional definition of a "customer" is "a person or organization that buys goods or services from a store or business." For the purpose of this blog, I I will expand that definition to include; "visitors" "followers" "users" "prospects" "leads" "MQLs" "SQLs" "opportunities" and any other label, nickname or acronym you can think of that is used to describe human beings developing a relationship with a brand, or a member of a tribe, as described by our friend, Seth Godin.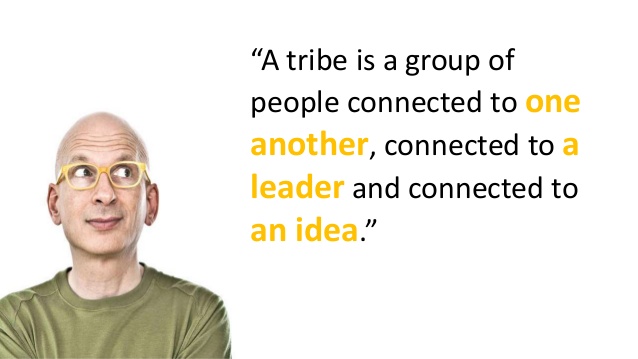 Customer experience: the product of an interaction between an organization and a customer over the duration of their relationship. It is measured by the individual's experience during all points of contact against the individual's expectations.
What is the Customer Journey?
Customer Journey: The complete sum of experiences that customers go through as they interact with a company/brand across multiple touchpoints over time.
So, instead of thinking about each individual experience or stage of the process in isolation, the customer journey helps us understand the full life cycle and development of the relationship between a customer and brand, from the very first time a customer encounters a brand, all the way through to becoming a loyal brand advocate, and every step in-between.
The Customer Journey and Digital Marketing
The term "customer journey" has been abuzz in the online business world and digital marketing community for quite some time, but over the course of the last couple of years, it's increasingly been at the tip of the tongue.
In the past two years, the average number of Google searches for "Customer Journey" has grown three-fold, up another 50% within the past 12 months.

In terms of the digital marketing world specifically, much of the chatter has come as a result of the fact that such a significant portion of the customer journey now takes place online, with many starting their journey on the brand's website. It is important for customers to be drawn into a website visually, as well as being able to receive all of the relevant information. For example, if you own a law firm, potential clients will need to know what areas you specialize in, as well as your location and maybe even some success stories, to help them decipher whether this is the best decision for them. In order for your website to have all of these things, law firms may decide to enlist the help of somewhere similar to SERP Legal, (https://serp.co/services/marketing/lawyers/) to establish the best marketing strategy for them. With each passing year, your online presence will become even more important when it comes to customer journeys. Below are a few of many statistics that have been fueling the conversation, some of which you might be familiar with:
---
The bottom line is, with the shift of the customer journey online, digital marketers now have a more critical role and greater direct impact on business success than ever before. (In a later post I will dive deeper into the significance of the customer journey in the digital marketing world.)
A Brief Background of My Customer Journey Story
I have been passionate about applying the customer journey to digital marketing for a long time. Looking back, early in my career I was actually already applying some of the high level concepts to my work before I even knew what I was doing. Like many folks, I got started with using some buying stages models and persona development to help map out my planning and marketing strategy as a demand generation marketer, which I continued to do for several years, trying out a few different models.
My time at SmartBear has been a unique opportunity to gain a much deeper understanding of the customer journey. By working at company with 15+ different products, with all different audiences, competitors, sales processes, and markets, I have been able to study first hand how drastically different customer journeys can be based upon the different characteristics of each business and target audience, and how you must go about molding and adjusting your marketing approaches and strategies accordingly. I spent my first 18 months at the company building automated lead nurture programs for every product at every stage of the customer journey, and lead scoring algorithms for each product as well, in addition to doing some considerable work with predictive analyics — all of which added a great deal of perspective for me to round out my knowledge of the customer journey that I hadn't been able to get in my demand gen roles, or probably would have been very difficult to get at another company without such a wide variety of products and the opportunity to build all of this from scratch. My current role has continued to add new perspective, from a brand standpoint, and also through managing the demand generation team which has given me the exposure to study the customer journey from all different angles.
It wasn't until this past year that we decided to take things to next level and actually align our entire marketing organization, strategies, programs and systems with the customer journey for all of our products. During this time, I designed a new customer journey stages model that we currently still use for all products at SmartBear, and I was very closely involved with the process of getting each area of our digital marketing organization aligned; from our teams, to content strategy and distribution, paid advertising, automated lead nurturing, lead scoring, automaton/operations, our goals and metrics, everything. In the process, I've learned a ton and I think our team has done some really cool (and perhaps, dare I say even innovative) things to be proud of in terms of aligning digital marketing with the customer life-cycle.
For a sneak peek at some of the ways we have gone about aligning our marketing team and strategy with Customer Journey, check out this slideshare below from a recent presentation I gave at Boston Agile Marketing Group.
Comparing Notes with the Digital Marketing Community
As the customer journey buzz has continued to amplify, of course I have been engaged in the discussion and eager to contribute. The more people I talked to about it, the more I started noticing varying degrees of knowledge and adoption levels among marketers, ranging from complete newbies to much more advanced experts.
Of course, as is usually the case with new industry trends, you have your group of folks that I sometimes like to call "buzzword parrots" – those people that keep an ear out for the latest trends and hot topics to latch onto, things like "big data," "social" "mobile" "account-based marketing" and in this case, "customer journey," that they will repeat five times a day to make it sound like they're ahead of the curve when their CEO walks by. Perhaps I am being harsh as we are all probably guilty of being "buzzword parrots" to some extent now and again. Regardless, there are definitely a lot of marketers out there right now with the "customer journey" in their regular vocabulary that know very little about it.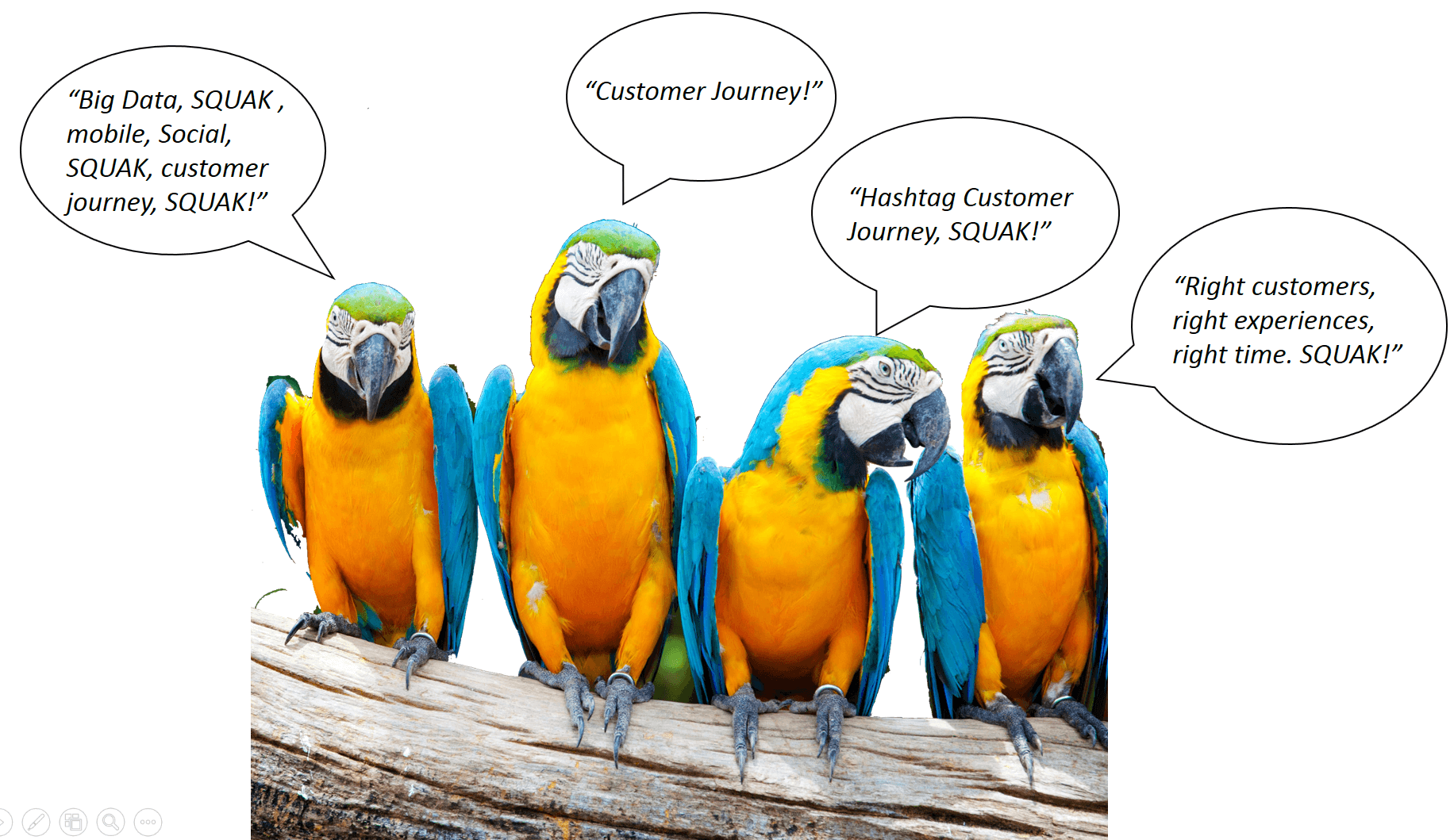 At the same time, other Marketers have a firmer understanding of the high-level concepts, and might have established some buyer stages and personas models that they are using as a reference to guide and inform their marketing strategies and initiatives, and others who are doing some more advanced customer journey mapping. Though of I've come across far fewer, there are also those like us at SmartBear, who have taken it a step further and actually (either partially or completely) aligned their marketing organizations, strategies, initiatives, and systems with the customer journey.
As I started sharing our story of how we had fully-aligned our marketing organization with customer journey at SmartBear with peers, people were typically really engaged and interested in learning more about how we went about doing this, and I saw a similar response as I started presenting on this at conferences and local marketing group meetups. Over time, some of my colleagues and peers actually even suggested that I start a blog about it 🙂 .
One of the most interesting things that has occurred to me is that regardless of where you might fall on the spectrum, whether you are a "buzzword parrot," a leading expert, or somewhere in between, we digital marketers all have a great deal to learn when it comes to the understanding customer journey and its relationship with digital marketing. Its exciting to think that even the "experts" are still novices compared to what we'll know in a few years.

What is the Customer Journey Marketer Blog?
A new blog about leveraging knowledge of the customer journey and the art and science of digital marketing, to turn anonymous visitors into loyal brand advocates.
Customer Journey Marketer is a blog about gaining a greater understanding of the customer journey, and the changing needs, obstacles, variables, and objectives at each stage throughout the entire lifecycle and development of the relationship between a customer and brand; the ways in which the combined powers of artistic and scientific modern digital marketing practices can be effectively applied to deliver the right experiences, to the right customers, at the right times, and to help develop strong, long-term brand relationships that collectively form a tribe of loyal brand advocates.
I created CJM as a platform to share my own experiences, thoughts, and lessons learned on both aligning digital marketing with the customer journey, and also modern digital marketing practices is in general, and to invite my peers, colleagues, and other experts, thought leaders, and members of the digital marketing community to join the conversation and share their perspectives and ideas as well.
What Topics Will be Covered?
There will be a couple different main tracks of content you will get a balance of as a subscriber to Customer Journey Marketer:
A) Customer Journey Alignment Specific. For those looking for granular tips, guides, best practices and information on how to actually go about aligning your marketing team, strategy, programs, initiatives and systems with the customer journey for your business. These posts can range between customer journey stages models, persona-development, customer and market research, and the alignment of everything from marketing teams, content strategy, and ultimately, every different individual area of a digital marketing organization.
B) General Digital Marketing. Because every role, function, and initiative of a digital marketing organization impacts the customer journey in some way, either directly or indirectly, being more effective in each aspect and area usually means being more effective in impacting the customer journey in a positive way. This will be a broader bucket which might include content on anything within the realm of digital marketing, including topics areas such as (but not limited to): content marketing, inbound marketing, online advertising, team leadership, SEO, branding, social media marketing, turning potential followers into Twitter and instagram followers, marketing automation and operations, lead nurturing, marketing analytics, conversion optimization, webinar and video marketing, customer advocacy marketing, PR, event marketing, agile marketing etc. Of course, I will be sure to draw parallels, make connections, and add insights linked with customer journey alignment wherever possible regardless of the topic.
Who is this blog relevant to?
Digital marketers of all levels. If sales, product, business leaders and other folks are interested in the content that would be an awesome bonus, but it is really geared towards any member of a digital marketing organization. There will be many "higher level" more strategic, marketing leadership type posts on topics that should resonate with mid-level managers right up to CMOs, but at the same time also extremely tactical, devil-in-the-details, execution-level topics that really get into the nitty-gritty weeds.
This blog is also for the guy in this image below.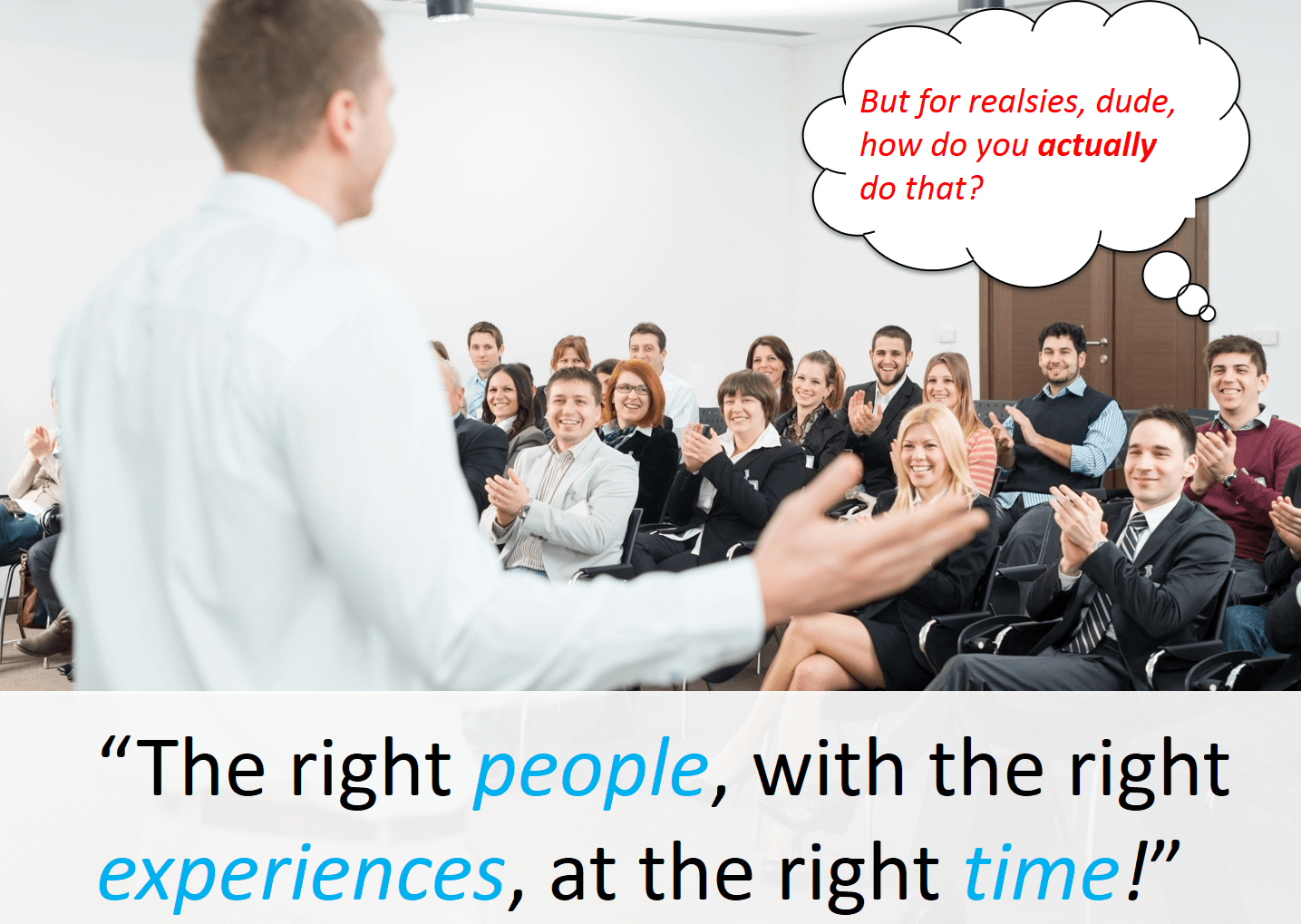 If you're like me, you've been this guy/girl in the back of the room wishing they had a little more real substance to go with their fluff. For anyone out there who has heard all the talk about "right customers, right experience, right time" but few details on how to actually do that, this blog is for you.
I look forward to connecting and sharing this journey with you all!
-Gary

Latest posts by Gary DeAsi
(see all)